Campfire Audio – Vega 2020
The Vega 2020 is Campfire Audio's successor of the well-known Vega. The form factor and fit were already ingenious in the predecessor, but it was perhaps a bit too fat. The new Vega 2020 is much more balanced. Still definitely for bass-heads, but on a very very high level! It is fast and thanks to the dynamic 1-way setup with perfect timing. A great addition to the many hybrid and multi-balanced armature in-ears.
Upgrade the Vega 2020 – and get a great discount on Tailormade custom eartips and upgrade cables (balanced and unbalanced).
Delivery time: on stock
Product Description
Campfire 2020 revision series continues with an improved more affordable version
Bringing a popular design back to life is no easy job. The film's critical and financial success elicits positive emotions and builds anticipation for the inevitable sequel. Vega 2020 builds on all of the great and unique features of the original 2016 design. A larger dynamic driver has been redesigned. Material choices and design have been improved. Everything is fresh and better for 2020. The Vega 2020, on the other hand, may surprise with its lower price of 949 EUR.
Exceptional sound, unique approach
A single full-range dynamic driver lies at the core of the Vega. Campfire has developed a unique lightweight and robust diaphragm using its trademark A.D.L.C. (amorphous diamond-like carbon) coating technology. By decreasing flex, increasing detail, and lowering audible distortion, these physical characteristics improve the driver's musical performance.
Ceramic shells are a miracle…
With the original Lyra, Campfire Audio was the first business to offer a ceramic body earphone in 2015. They've returned to this great material with the new 2020 Vega and Dorado.
…and a thick substance.
When it comes to creating earphones, this is part of the attraction. As it doesn't allow vibrations to go wild, the density works well with dynamic drives. It also has the additional advantage of being highly scratch resistant, which adds to the value of ownership.
The back of the dynamic driver is vented via the port on the earphone's face. The airflow is further regulated by an acoustic dampener to enhance the dynamic driver's sound performance.
The sintering process gives our ceramic shells their strength. Two days at 600 degrees Fahrenheit are followed by three days at 1200 degrees Fahrenheit. As a consequence of the prolonged exposure to high heat, the components' size is drastically reduced and their density is increased.
The shells are then tumbled for up to three days with tiny alumina stones and water in a tumbler. This polishing procedure is what gives them their appealing high-gloss sheen.
Simplicity is the secret to sensual sound
The acoustic design philosophy at Vega is simple: utilize the finest components available and maximize their capabilities. In the signal route, there is no cross-over or other technological clutter to obstruct the driver's musical performance. From our unique Beryllium Copper MMCX connection to the driver and back, there are high quality conductors. The design's simplicity is its strength, and it's what makes Vega 2020 so cohesive. Vega is a combination of elegance and practicality. It's an earphone that may be used for any genre or recording. Listening to streaming music and lower-quality recordings is just as forgiving and pleasant as listening to a full-fledged hi-fi track from a dedicated device.
Specifications
5 Hz – 20 kHz Frequency Response
94 dB SPL @ 1kHz: 19.86 mVrs
36 Ohm @ 1kHz Impedance
Features
White Ceramic Shell
Single Full Range 10mm Dynamic Driver
A.D.L.C. Diaphragm
Oversized Neodymium Rare Earth Magnet
Custom Beryllium / Copper MMCX Connections
Stainless Steel Spout
If you want to get the most out of your universal-fit in-ears, go for Tailormade custom eartips. As opposed to regular silicone or foam eartips, Tailormade eartips are made to fit exactly your ears and the in-ear model of your choice. This means better sound (due to better isolation), better fit and better comfort. Even more, Tailormade eartips are very durable and hygienic and you can use them with many in-ear models.
But even compared to fully customized IEMs, they are the smarter choice. As opposed to those, you can still share your universal-fit-in-ears with others – and even sell them, should you ever want to upgrade. In a word, Tailomade eartips combine the pros of universal-fit in-ears with custom-fit in-ears (these remain the best choice for the stage).
At the headphone.shop, you get a great discount on Tailormade custom eartips when bundled with high-class in-ears. Find out more here.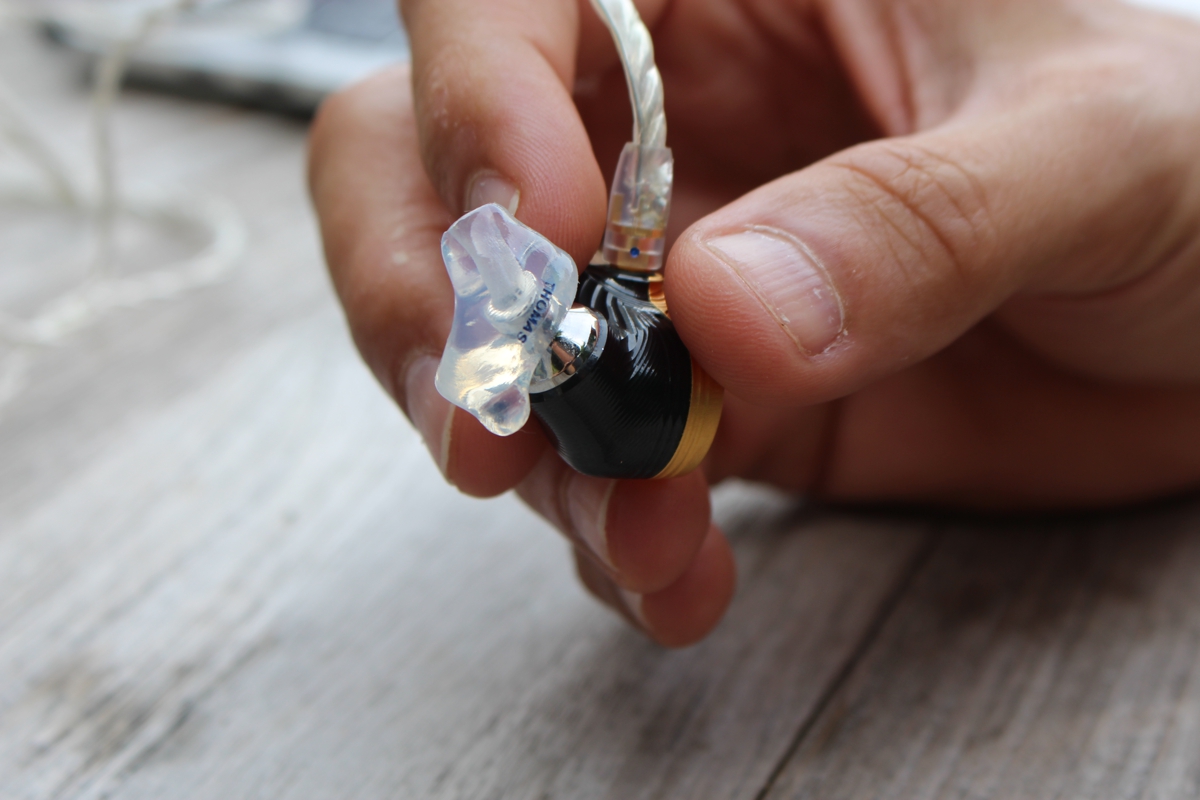 If you want to get the most out of your in-ears, you should consider better cables – and even more the option of having a balanced cable (especially when you have a high-end audio player from Astell & Kern etc.). At the headphone.shop, you get a great discount on selected upgrade cables when bundled with high-class in-ears. Find upgrade cables here.
Related products