Custom Art – FIBAE 7
The Custom Art FIBAE 7 is a flagship custom monitor with seven balanced armature drivers and the company's unique world's first, patent-pending Flat Impedance design: the FIBAE technology. The IEM consist of seven driver:  Dual Sub-Low, Single Low-Mid, Dual Mid-High, and Two Top-Firing Tweeters. FIBAE 7 is the pinnacle of natural sound, with a precise frequency response and a richness of detail that will surprise you. See for yourself!
Upgrade the Custom Art FIBAE 7 – and get a great discount on Tailormade custom eartips and upgrade cables (balanced and unbalanced).
Delivery time: on stock
Product Description
The FIBAE 7 is born to celebrate Custom Art's 7th Anniversary
FIBAE 7 is a 7-year celebration of Custom Art's brand. Next to the well-known Harmony 8.2, the IEMs are presented as the company's co-flagship. FIBAE 7 combines driver modules from throughout the company's IEM product range to produce the most balanced, natural, and thrilling IEMs they've ever made.
Affordable Audiophile In Ear with FIBAE Technology at a Reasonable Price
FIBAE 7 will maintain its sound identity with any audio player, sound card, amplifier, or even a smartphone, thanks to Custom Art's groundbreaking Flat Impedance technology.
But what exactly is the FIBAE technology all about?
Impedance is constant. The Balanced Armature Earphone (FIBAETM) technology is the world's first and only flat impedance and phase In-Ear Monitor design. By switching the nature of the Balanced Armature driver from inductive to resistive, Custom Art was able to address one of the industry's oldest problems: the earphone's reliance on the sound source's output impedance for proper output. Your headphones will always perform at their finest from any DAP thanks to FIBAETM technology. There are single-driver and multi-driver options to choose from.
Naturally smooth sound a delight for any audiophhile ears
In Custom Art's product range the FIBAE 7 is the most natural sounding IEM. The lows are substantial but never bloated thanks to the dual sub-bass driver also the voices have a natural smooth tone and are adjusted for presence and forwardness. Thanks to two Top-Firing Drivers the high frequency response is highly defined and never harsh. The FIBAE 7 is the ideal IEM for audiophiles and musicians seeking for accuracy and naturalness, thanks to its large headroom, excellent resolution, and wide dynamic range, as well as its rapid transient response.
Specifications
– Dual Sub-Low, single Low-Mid, dual Mid-High, single proprietary High, single proprietary Super High
– Two Top-Firing Balanced Armature Drivers
– Flat Impedance technology
– 113dB @1kHz @0.1V
– 5.9 Ohm @1kHz (+-0.75 Ohm 10Hz-20kHz)
– 10Hz-21000Hz (+-20dB into IEC 60318-4 coupler)
– Null Audio Arete OCC Copper cable
Included
– Carton box
– Peli 1010 case
– Zipper case
– Wax pick tool
– Drying pellet
– Warranty card
– Ear tips in 4 sizes
If you want to get the most out of your universal-fit in-ears, go for Tailormade custom eartips. As opposed to regular silicone or foam eartips, Tailormade eartips are made to fit exactly your ears and the in-ear model of your choice. This means better sound (due to better isolation), better fit and better comfort. Even more, Tailormade eartips are very durable and hygienic and you can use them with many in-ear models.
But even compared to fully customized IEMs, they are the smarter choice. As opposed to those, you can still share your universal-fit-in-ears with others – and even sell them, should you ever want to upgrade. In a word, Tailomade eartips combine the pros of universal-fit in-ears with custom-fit in-ears (these remain the best choice for the stage).
At the headphone.shop, you get a great discount on Tailormade custom eartips when bundled with high-class in-ears. Find out more here.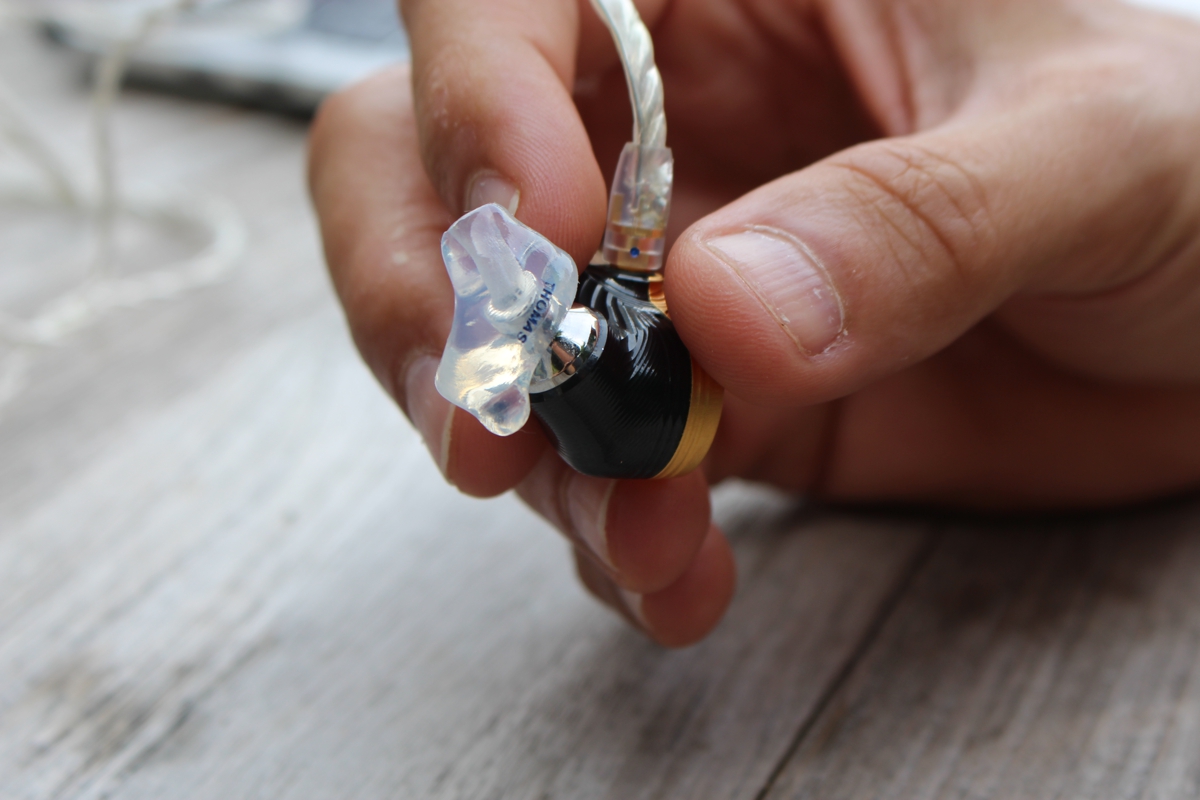 If you want to get the most out of your in-ears, you should consider better cables – and even more the option of having a balanced cable (especially when you have a high-end audio player from Astell & Kern etc.). At the headphone.shop, you get a great discount on selected upgrade cables when bundled with high-class in-ears. Find upgrade cables here.
Related products