Campfire Audio – Dorado 2020
Dorado 2020 is an extremely successful evolution of the original Dorado, which was arguably the best Campfire in-ear when it was launched. The 2020 version a candidate for the best value high-end in-ear. Campfire has mastered hybrid technology like few other manufacturers. Perfect timing and tonality. Every driver does exactly what it is supposed to do. The Doraddo 2020 is a small Solaris 2020 … with a sensational fit.
Upgrade the Dorado 2020 – and get a great discount on Tailormade custom eartips and upgrade cables (balanced and unbalanced).
Delivery time: on stock
Product Description
A strikingly beautiful In Ear designed to endure
Campfire has created a remarkable succession of high-fidelity hybrid IEMs since Dorado's first release in 2016, which have gone from niche to popularized as some of the finest in the world.
With a fresh twist on the traditional hybrid design, Dorado 2020 infuses new vitality into the name and history of the original. One dynamic driver and one balanced armature There are no problems since there is no cross-over. These simplified pairings, according to Campfire, recreate sound more accurately, with better clarity and cohesiveness, than those with too complex cross-over systems.
The end effect is a rich, genuine tone. They're resolving and emotionally engaging, and they're a real blend in terms of design and sound.
A bass-satisfying hybrid high-fidelity earphone
The custom-tuned 10mm A.D.L.C. diaphragm dynamic driver is augmented by a single balanced armature. This powerful driver is given the freedom to dig a little deeper, reach a little lower, and produce rich and satisfying bass by leaving the dazzling highs to the B.A. It has a crisp and pronounced vocal delivery. The Dorado 2020 is a high-fidelity hybrid earphone.
Ceramic – very durable with stunning appearance
With the original Lyra, Campfire Audio was the first business to offer a ceramic body earphone in 2015.
They've returned to this great stuff with the new Dorado and Vega.
Ceramic is a thick substance. When it comes to creating earphones, this is part of the attraction. As it doesn't allow vibrations to go wild, the density works well with dynamic drives. It also has the additional advantage of being highly scratch resistant, which adds to the value of ownership.
The sintering process gives Campfire's ceramic shells their strength. Two days at 600 degrees Fahrenheit are followed by three days at 1200 degrees Fahrenheit. As a consequence of the prolonged exposure to high heat, the components' size is drastically reduced and their density is increased.
The shells are then tumbled for up to three days with tiny alumina stones and water in a tumbler. This polishing procedure is what gives them their appealing high-gloss sheen.
Campfire used a machined brass spout with a 'gunmetal grey' P.V.D. finish for Dorado 2020. The spout's conical shape and smaller diameter offer further tuning benefits while also increasing wear comfort. The super-small balanced armature is centered in the spout, and its closeness to the outlet gives it just the perfect amount of presence.
To have the most pleasant music listening experience
Dorado's acoustic design is similar to Vega's in that it uses the finest components available and lets them shine. There is no cross-over or other technological clutter in the signal route, similar to Vega 2020, to jeopardize the driver's musical performance.
As a hybrid IEM, Dorado 2020 is distinguished from Vega by the addition of a single high-frequency focused balanced armature. Dorado also employs a custom-tuned dynamic driver, which is comparable to the full-range sibling found in Vega.
Consider the future: environmentally friendly pouches
The salmon-colored case is constructed of recycled marine plastic from ocean cleaning for an eco-friendly alternative to the traditional leather bag.
Specifications
5 Hz – 22 kHz Frequency Response
94 dB SPL @ 1kHz: 18.52 mVrs
10 Ohm @ 1kHz Impedance
Features
Black Ceramic Shell
Single Custom Balanced Armature (High)
10mm A.D.L.C. Diaphragm Dynamic Driver (Mid+Low)
Oversized Neodymium Rare Earth Magnet
Custom Beryllium / Copper MMCX Connections
Brass Spout with 'Midnight Grey' PVD finish
If you want to get the most out of your universal-fit in-ears, go for Tailormade custom eartips. As opposed to regular silicone or foam eartips, Tailormade eartips are made to fit exactly your ears and the in-ear model of your choice. This means better sound (due to better isolation), better fit and better comfort. Even more, Tailormade eartips are very durable and hygienic and you can use them with many in-ear models.
But even compared to fully customized IEMs, they are the smarter choice. As opposed to those, you can still share your universal-fit-in-ears with others – and even sell them, should you ever want to upgrade. In a word, Tailomade eartips combine the pros of universal-fit in-ears with custom-fit in-ears (these remain the best choice for the stage).
At the headphone.shop, you get a great discount on Tailormade custom eartips when bundled with high-class in-ears. Find out more here.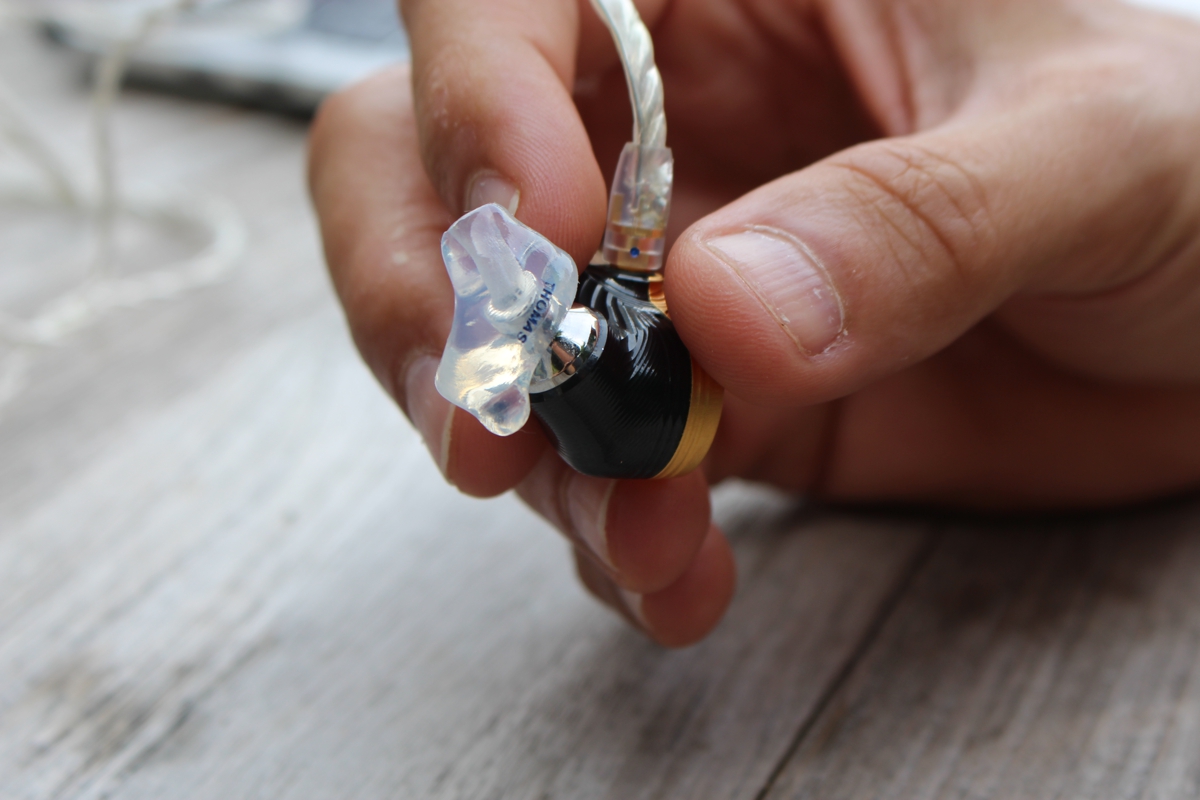 If you want to get the most out of your in-ears, you should consider better cables – and even more the option of having a balanced cable (especially when you have a high-end audio player from Astell & Kern etc.). At the headphone.shop, you get a great discount on selected upgrade cables when bundled with high-class in-ears. Find upgrade cables here.
Related products