Final Audio – B1
The B1 is the premier Final Audio pure balanced-armature-IEM. Unlike many other brands, Final Audio prefers only pure balanced armature or pure dynamic driver configurations. The reason is that different technologies have different efficiencies – and a hybrid mix of these can very tricky to get under control. The B1 set-up is pure harmony. Full-bodied and still perfectly balanced. Plus Final-grad craftmanship!
Upgrade Final Audio B1 – and get a great discount on Tailormade custom eartips.
Delivery time: on stock
Product Description
At the top of the new Final B-series reside the B1 in-ear monitor earphones that are designed with an emphasis on sound positioning and realism. Each instrument and vocal element of the recording can be heard in the highest resolution to make live stage and studio recordings come to life and sound as if the listener is personally immersed in the performance.
Combining two different drivers in the stainless steel housing makes the B1 able to reproduce stunning sound with a sense of liveliness. As the resolution of each instrument and vocal note are very high, you will get the overwhelming feeling of being part of the live performance. Final B1 has been created to achieve playback more consistent with perfect sound balance as intended by the engineer.
As the stainless steel housing of the B1 has been machined using a special metal injection molding process, Final is able to produce a complex internal cavity that is purpose-designed to create stellar sound. In addition, Final B1 is highly serviceable due to its two-piece separable construction.
Stainless steel housing made by Metal Injection Molding (MIM)
MIM is a process in which powdered metal is mixed with a binder to form a resin in the desired shape, and the form is achieved by applying high-temperature sintering to achieve the desired form. There is a high degree of freedom in molding the resin into the same shape as the cast, making it possible to achieve a complex internal design even with metal.
In order to achieve a long-life, repairable construction, the front and rear pieces of the earphone are separable. This makes B1 easy to repair for long-term usage.
Aesthetic MMCX Design with Hybrid Drivers
Final B1 employs a total of 2 drivers. There is one Balanced Armature (BA) driver for high frequency and one Dynamic Driver for bass.No additional crossover network is applied. B1 adopts an MMCX connector and comes with high-purity OFC silver coated cables that provide a wide sound stage.
The cables were originally designed by and are currently manufactured by the well-renowned Junkosha corporation for the purpose of being used with the supercomputer "Kei" due to their fast signal transmission speed.
The outer tube is made from PVC for maximum flexibility. The user will experience surprising flexibility that both makes the cable extremely easy to use as well as reducing the likelihood of microphonics.
High-Quality Audio
Final has described the B1 as being more intimate in terms of its soundstage.  And while that is true (for the most part, at least), there's still a sense of depth and placement that comes through with almost any composition.  While still more intimate than realistic, there's enough soundstage to let jazz and classical tracks breathe.
The flagship B1 has a richer tuning with a fuller sound with a bit more color in the mix. Quantity-wise, it has more bass, but in a very controlled way, which prevents any bloating that may occur. It gives better sub-bass, obviously, with the help of its dynamic driver, with a better extension down low. The rumble and kick are richer with more texture and impact. Decay is very nice as well.
The low frequencies of the Final Audio B1 have a feeling of punch and solidity to them. Boosts at what sound like 40 Hz and 60 Hz provide a feeling of extended stubbiness and extra audible energy to kick drums, bass synths, and low strings. There is space around these low frequencies, so while they work well for genres that need particularly punchy lows like hip-hop, they also work well for songs with dense low-end arrangements.
Last Thoughts about Final Audio-B1
The Final Audio B1 has a classy look with a comfortable fit. Its sound signature favors presence and clarity. The IEMs do a wonderful job of marrying spaciousness with fullness. Highly recommended.
Specification
Housing: Stainless steel mirror-finished (Rose Gold)
Driver: 1 Dynamic +1BA (Networkless)
Connector:  MMCX
Cable: OFC silver coated cable
Sensitivity: 94dB
Impedance: 13Ω
Weight: 36g
Cord length: 1.2m
If you want to get the most out of your universal-fit in-ears, go for Tailormade custom eartips. As opposed to regular silicone or foam eartips, Tailormade eartips are made to fit exactly your ears and the in-ear model of your choice. This means better sound (due to better isolation), better fit and better comfort. Even more, Tailormade eartips are very durable and hygienic and you can use them with many in-ear models.
But even compared to fully customized IEMs, they are the smarter choice. As opposed to those, you can still share your universal-fit-in-ears with others – and even sell them, should you ever want to upgrade. In a word, Tailomade eartips combine the pros of universal-fit in-ears with custom-fit in-ears (these remain the best choice for the stage).
At the headphone.shop, you get a great discount on Tailormade custom eartips when bundled with high-class in-ears. Find out more here.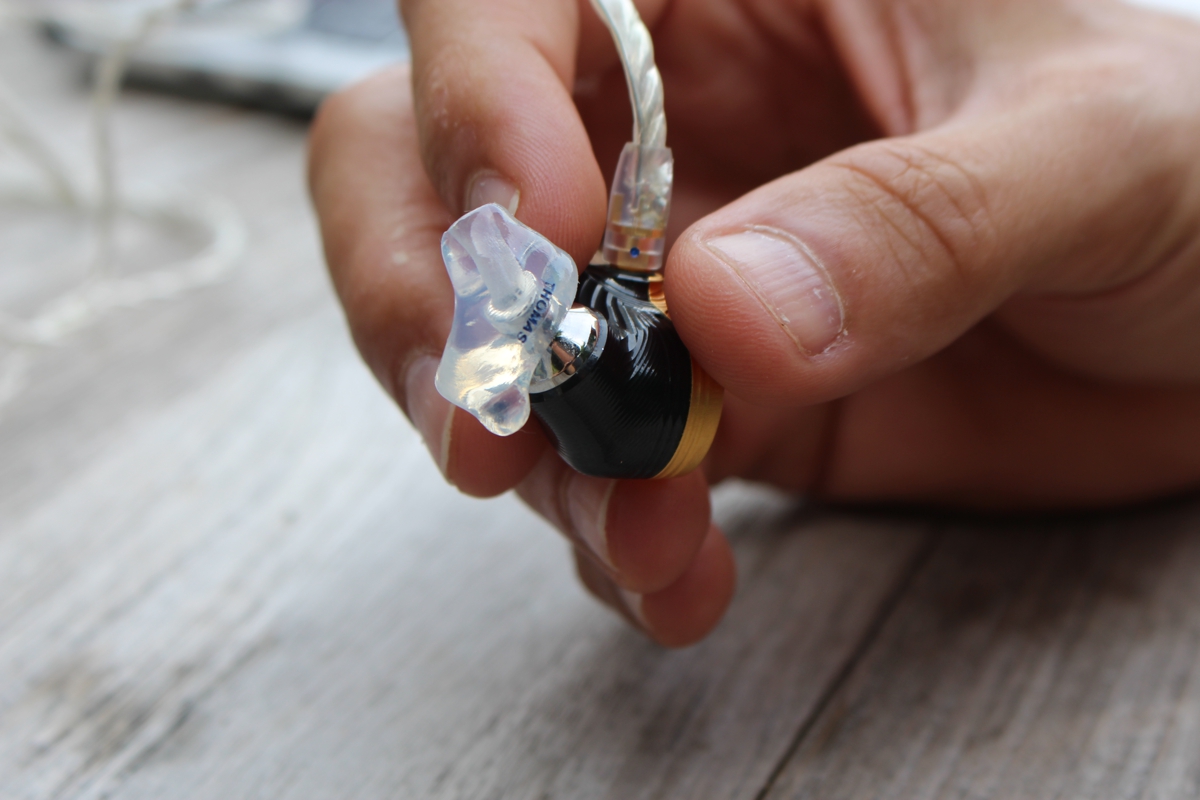 Related products