Astell & Kern x JH Audio – Diana
Diana is a superb 3-driver balanced-armature driver-set-up made by Jerry Harvey for Astell & Kern. It is perfectly tuned to deliver a typical JH Audio sound. Rich and emotional, crispy and airy. In a word: superbly balanced. Diana comes with a 2,5mm cable plus a 3,5mm adaptor, so it's the perfect choice for Astell & Kern users.
Upgrade the Diana – and get a great discount on Tailormade custom eartips.
Delivery time: on stock
Product Description
The Astell & Kern Diana In-Ear is the result of merging Jerry Harvey Audio's world-renowned IEM technology, which has long created unique headphones for artists all over the globe, with Astell&Kern's expertise, which is recognized for its high-quality products from Korea. In order to provide a great IEM, both in terms of sound and design, the Diana is precisely machined from a complete metal aluminum shell. For the listener, not only is there a visually attractive image, but there is also a more robust sound that performs optimally throughout all sound ranges and is entirely free of distortion.
The Diana in-ear headphones are equipped with Jerry Harvey Audio's unique Freqphase technology as well as the same innovative sound hole design that was used in the Billie Jean. The 3-way drivers, optimized size, and silver tinsel and anaerobic copper cables combine to provide a superior sound that has not been found in existing IEM products.
"(…) the Diana as a reference earphone, tuned with the audiophile in mind, and a perfect complement to any Astell&Kern player. Diana offers a flat, detailed response; great for critical listeners who also want a well-balanced and wide soundstage, incomparable dynamic range and Jerry Harvey Audio's patented Freqphase™ technology. (…) With the all-new ergonomic body, machined from aluminum and beautifully finished with Red and Clear anodized coating, Diana is the best fitting, most striking earphone from Astell&Kern yet. Diana also features JHA's Patent Pending Acoustic Chamber Sound Bore, first used in the Billie Jean IEM, which extends and smooths high frequencies and reduces maintenance needs due to sweat and ear wax. "
– Jerry Harvey
Superior technologies
When compared to traditional dynamic drivers, the balanced-armature drivers utilized in Diana are both smaller and significantly more efficient.
The bass driver provides a steep low bass effect without any distortion while the high-range driver performs with minimal distortion, while the ultimate midrange driver provides the perfect flat sound from 10Hz to 5kHz.
Three Balanced Armature drivers with optimized tuning are intricately designed and integrated with Freqphase, Timephase, and Waveguide technologies that deliver crystal clear sound in all sonic ranges. Especially remarkable is the Acoustic Chamber Sound Bore design, which was created by Jerry Harvey Audio and used on Diana. This design produces the full amount of air needed for sound, making it optimized for treble. As an extra benefit, it keeps sweat and dirt from accumulating in the sound bore.
Freqphase™ Time and Phase Waveguide
The large majority of in-ear monitors with multiple drivers suffer from phase and timing issues. Low, mid and high drivers all have different pulse times. The higher it is, the faster the pulse time of the BA driver. The lower it is, the slower the response speed. As a result, the arrival times and phase shifts are not synchronized.
With the Diana in-ear monitors, Jerry Harvey Audio's unique "Freqphase" technology is used, which uses precisely cut tube lengths for each driver in order to minimize the phase shift of each frequency. This allows the high, mid and low frequency drivers to be precisely matched to within 1/100ms of each other for the most ideal phase curve. It enables that all drivers operate in the exact time alignment and phase, resulting in the most accurate music reproduction technology on the market.
Watch a video about Freqphase: youtube.com/embed/SmtMalITFgQ 
High Quality Full Metal Shell
Diana's elegant design is carefully made from aluminum in multiple steps. Its aluminum construction, which is as robust and light as it is attractive, lends exceptional longevity to the design. It will be the greatest option for those who are looking for the finest in-ear monitor and who demand the best in terms of sound, design, and durability. In order to ensure that listeners are provided with authentic sounds, years of research into the various shapes of the ear canal went into the design. Using all of Jerry Harvey Audio's Custom IEM expertise and knowledge, the Universal Fit Diana is designed to provide the greatest fit and comfort possible for audiophiles all over the world.
4N pure silver and 7N OCC copper hybrid 2.5mm 4-pole cable
The included cable, designed and tuned specifically for the Astell&Kern Diana, is a very special headphone cable: an 8-conductor cable consisting of 4N pure silver with silver-plated 7N OCC to deliver the highs in this combination; and the 7N OCC to bring the lows.
This combination of pure silver, silver OCC and OCC strands creates a unique harmony and is the finishing touch to Diana`s excellence. No more sharp highs or too much bass – this unique cable brings the perfect balance to Your music.
If you want to get the most out of your universal-fit in-ears, go for Tailormade custom eartips. As opposed to regular silicone or foam eartips, Tailormade eartips are made to fit exactly your ears and the in-ear model of your choice. This means better sound (due to better isolation), better fit and better comfort. Even more, Tailormade eartips are very durable and hygienic and you can use them with many in-ear models.
But even compared to fully customized IEMs, they are the smarter choice. As opposed to those, you can still share your universal-fit-in-ears with others – and even sell them, should you ever want to upgrade. In a word, Tailomade eartips combine the pros of universal-fit in-ears with custom-fit in-ears (these remain the best choice for the stage).
At the headphone.shop, you get a great discount on Tailormade custom eartips when bundled with high-class in-ears. Find out more here.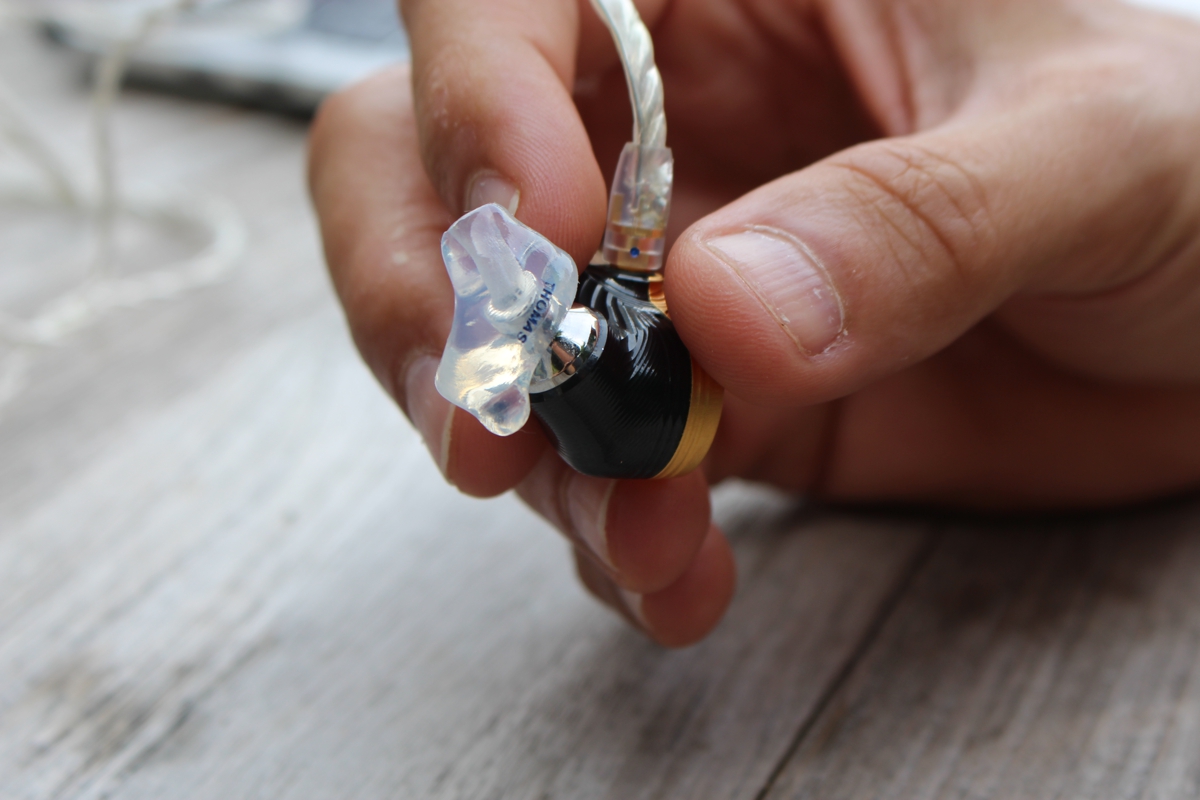 If you want to get the most out of your in-ears, you should consider better cables – and even more the option of having a balanced cable (especially when you have a high-end audio player from Astell & Kern etc.). At the headphone.shop, you get a great discount on selected upgrade cables when bundled with high-class in-ears. Find upgrade cables here.
Related products