Empire Ears – Legend X
The Legend X is the death star of the Empire. Nothing out there impresses more – emotionally and physically. Very crispy and silky and with a great sound stage, these are an audiophile's heaven. But with a punch like Mike Tyson, when he was 25! Utterly impressive and absolutely addictive! It comes with either a 3,5mm or a 2,5mm balanced cable. Please choose one at checkout!
Upgrade the Legend X – and get a great discount on Tailormade custom eartips.
Delivery time: on stock
Product Description
The Legend X is Empire's top model under their X-line products, and it is the brainchild of many of their inhouse technologies. The 7 drivers configuration make use of their proprietary dual Weapon IX drivers' setup for amazing low-end performance, while two balanced armatures caters the mids, one handles the upper mids, another single BA handles the treble and another one is dedicated to power the upper treble. With their renowned ultra-wide, multi-channel highway "SyncX" different frequency bands are adjusted with even more precision than before.
The sound performance is as impressive as it looks. The staging width and depth is unbelievably expanded, with very precisely handled stereo imaging. The bass is deep, while vocal body is full bodied with a lot of details and power, ready to do all voices justice and reveals all the emotions from the track. The treble is gently rounded to eliminate all harshness and what you get is a lush vocal presentation without killing the air, no fatigue even after hours of listening. With incredible resolution and the staggaring mids performance, the Legend X is an epic creation for vocal lovers and for those who enjoy sweet, dense bass.
SYNX CROSSOVER NETWORKS
SynX is a supercharged, state-of-the-art crossover architecture that designates more individual frequency bands per driver than any other crossover technology currently in the market. By creating an ultra-wide, multi-channel highway Empire's engineers manipulate specific parts of the frequency range in order to precisely design their target response, eliminating all phase incoherence between drivers. Alternatively, mixing engineers, performers and audiophiles will gain full control of the sound outputs when equalizing through a mixing console or digital audio player, with immersive details and very sensitive response that allows you to pick up every single bit of details.
A.R.C. TECHNOLOGY
The A.R.C. technology is a special design that combines the deposition of advanced polymers, which adds to the relative mass of each component when applied and dried, dampening and reshaping the resonant vibrations. Furthermore, the specific polymeric mixture is engineered to form a specific density that would maximize the vibration absorption. High precision control allows the right rigidity for the right amount of resonance control, also adding and additional layer of protection towards shock and impact, further strengthening the product's life cycle.
Technical Specifications
7 Proprietary Drivers, Hybrid Design
2 W9 Subwoofers, 2 Mid, 1 Mid-High, 1 High, 1 Super High
10-Way synX Crossover Systemh
A.R.C. Resonance Mitigation Technology
Impedance: 14 ohms @ 1kHz
Frequency Response: 5 Hz – 40kHz
Sensitivity: 102dB @ 1kHz, 1mW 26AWG UPOCC
Litz Copper Cable, Handcrafted by Effect Audio
If you want to get the most out of your universal-fit in-ears, go for Tailormade custom eartips. As opposed to regular silicone or foam eartips, Tailormade eartips are made to fit exactly your ears and the in-ear model of your choice. This means better sound (due to better isolation), better fit and better comfort. Even more, Tailormade eartips are very durable and hygienic and you can use them with many in-ear models.
But even compared to fully customized IEMs, they are the smarter choice. As opposed to those, you can still share your universal-fit-in-ears with others – and even sell them, should you ever want to upgrade. In a word, Tailomade eartips combine the pros of universal-fit in-ears with custom-fit in-ears (these remain the best choice for the stage).
At the headphone.shop, you get a great discount on Tailormade custom eartips when bundled with high-class in-ears. Find out more here.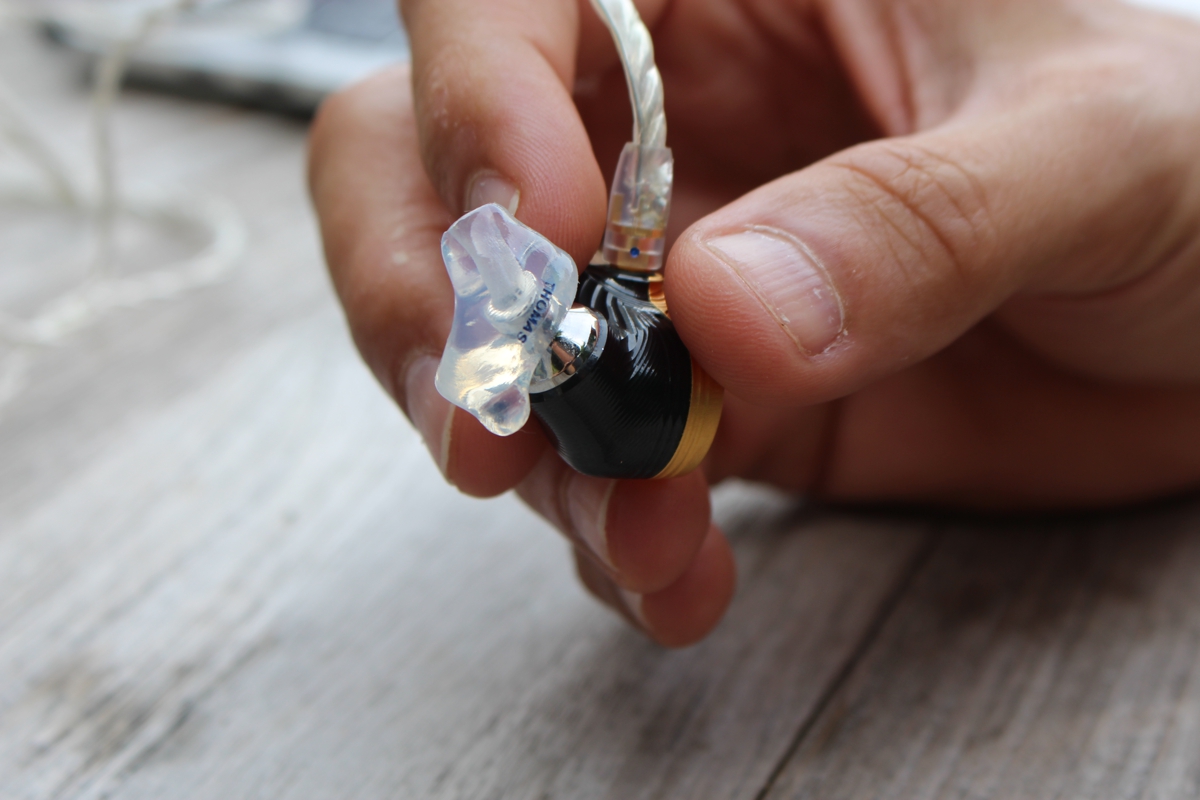 If you want to get the most out of your in-ears, you should consider better cables – and even more the option of having a balanced cable (especially when you have a high-end audio player from Astell & Kern etc.). At the headphone.shop, you get a great discount on selected upgrade cables when bundled with high-class in-ears. Find upgrade cables here.
Related products