64 Audio – U6t
64 Audio's U6t most popular CIEM is now available in a universal form. Drawing from the sonic palette of U12t, U6t is 64 Audios most affordable audiophile monitor to date. It boasts the same groundbreaking technology as the flagship IEMs in an ergonomic aluminum shell, making it more accessible than ever.
Upgrade the 64 Audio u6t – and get a great discount on Tailormade custom eartips and upgrade cables (balanced and unbalanced).
Delivery time: on stock
Product Description
While looking towards U12t for sonic inspiration, the U18s influenced the new dark grey matte shell finish as well as its newly redesigned packaging and proprietary cable. The understated shell design and classic black faceplate reflect what you can expect from the new generation of 64 Audio audiophile products.
Design with Precision-Balanced Armature Driver
The U6t IEMs are built around a half-dozen precision-balanced armature drivers, each containing a tia high, a high-mid, a pair of mids, and a pair of lows, cumulatively offering a frequency response of 10Hz – 20kHz. The IEMs offer a reported -20dB of isolation, sport an integrated four-way passive crossover, and feature a universal shell milled out of a solid aerospace-grade aluminum billet.
U6t includes various 64 Audio technologies, including tia, apex, and LID. 64 Audio's Air Pressure Exchange (apex) is a pneumatically interactive vent that releases air pressure in a sealed ear canal, with the intention of alleviating listener fatigue and opening the soundstage. Meanwhile, tia works by eliminating sound-altering tubes and dampers, using the tia high driver and the tia single-bore design. Lastly, LID is intended to provide a consistent frequency response regardless of the source.
The use of technology
Exclusive technologies that challenge traditional in-ear monitor designs to give you the absolute best listening experience.
U6t features the following unique technology:
TIA – A tubeless design that reduces resonance for a transparent and lifelike sound signature.
APEX – Only from 64 Audio, apex alleviates listener fatigue by releasing air pressure sealed in the ear canal. This venting enables musicians and music enthusiasts to listen more comfortably for longer.
LID – Enables a consistent, reliable sound regardless of the audio source.
Perfect Sound Quality for Optimum Comfort
In standard 64 Audio fashion, the U6t is a balanced, natural-sounding earphone, slightly set apart from our other UIEM models by offering a softer presentation of a mix. Beautiful upper-mid imaging, realistically presenting instruments like guitars and piano as well as breathing life into saturated mid-bass mixes, especially when vocal focused. Using the various included apex modules and ear-tips allows the listener to further customize the sound of the U6t based on the needs of the music.
Specifications
Six precision balanced armature drivers
Driver configuration: 1 tia high, 1 high-mid, 2 mid, 2 low
Frequency response: 10Hz – 20kHz
Sensitivity: 108db dB/mW @ 1mW (84mV)
Crossover:

Integrated

4-way passive
Isolation

: –

20dB w/ m20 module
universal shell:

milled out of a solid aerospace grade aluminum

billet
If you want to get the most out of your universal-fit in-ears, go for Tailormade custom eartips. As opposed to regular silicone or foam eartips, Tailormade eartips are made to fit exactly your ears and the in-ear model of your choice. This means better sound (due to better isolation), better fit and better comfort. Even more, Tailormade eartips are very durable and hygienic and you can use them with many in-ear models.
But even compared to fully customized IEMs, they are the smarter choice. As opposed to those, you can still share your universal-fit-in-ears with others – and even sell them, should you ever want to upgrade. In a word, Tailomade eartips combine the pros of universal-fit in-ears with custom-fit in-ears (these remain the best choice for the stage).
At the headphone.shop, you get a great discount on Tailormade custom eartips when bundled with high-class in-ears. Find out more here.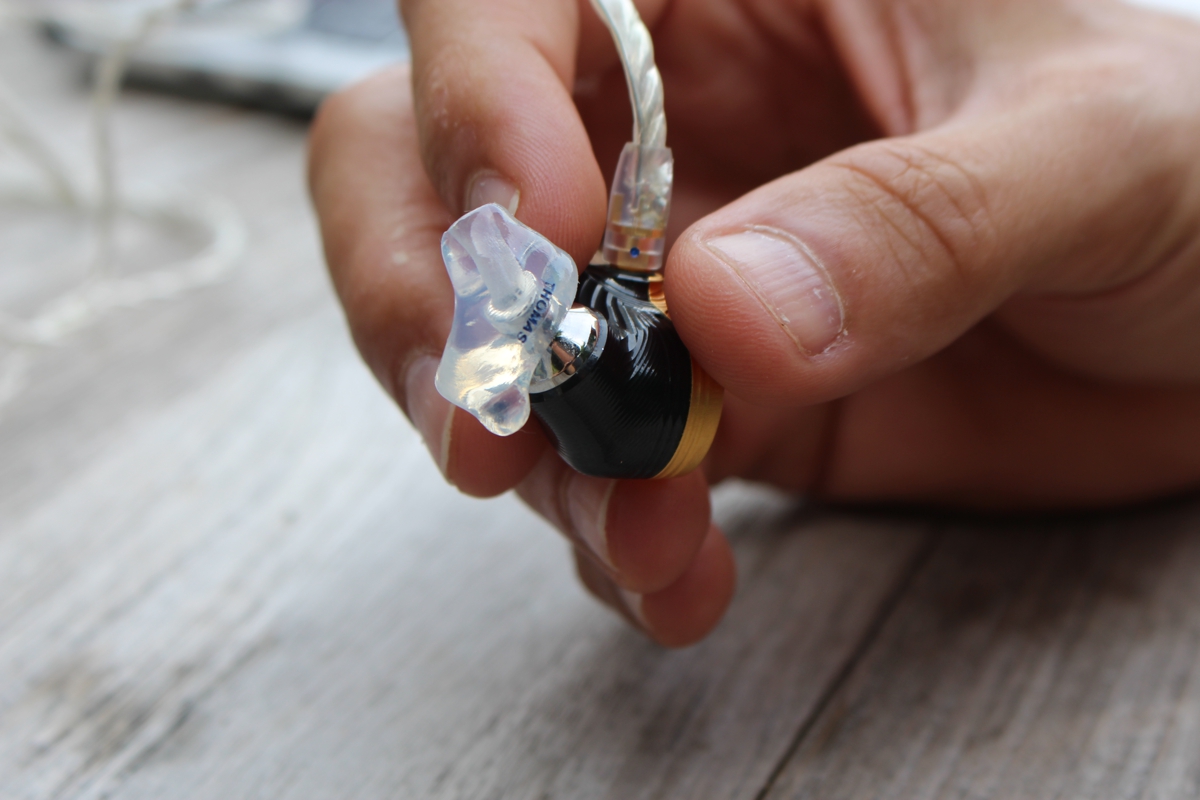 If you want to get the most out of your in-ears, you should consider better cables – and even more the option of having a balanced cable (especially when you have a high-end audio player from Astell & Kern etc.). At the headphone.shop, you get a great discount on selected upgrade cables when bundled with high-class in-ears. Find upgrade cables here.
Related products