Campfire Audio – Solaris 2020
The Campfire Solaris 2020 is one of the few in-ears that most of our customer agree to belong to the best of the best. It represents the limit of what is currently technically feasible. Its accuracy combined with such a emotional signature simply leaves you speechless. This is so good, we don't care about the underlying technology – even though it is extremely complex.
Upgrade the Solaris 2020 – and get a great discount on Tailormade custom eartips and upgrade cables (balanced and unbalanced).
Delivery time: on stock
Product Description
A substantial challenge
Re-engineering the already highly praised Solaris while keeping its distinctive sound but altering its external form is not an easy task. As a consequence of this endeavor, an exciting new earphone has been developed that captures the 'Solaris-Sound' in a smaller size that more people can appreciate.
Spectacular sounds
Explosive melodic reality with flawless execution, now available in a 20% lower size. Soaring highs, engaging mids, and powerful bass combine for a holographic presentation. With realistic performances, excellent layering, and amazing imagery, music sounds like music. The Solaris 2020 has the same highly praised sound signature as the Solaris and Solaris SE. Solaris 2020 is the first Solaris to feature Campfire's Solid-Body acoustic architecture, which allows for greater control over the interaction of the drivers, resulting in a cleaner and more polished sound.
Redifined a wonderful new creation for 2020
A musical masterpiece evolved from our range of audio technology. Campfire were able to build an outstanding earphone by integrating their unique acoustic technology into Solaris 2020. Solaris is a hybrid design that combines the best of balanced armature performance with dynamic driver physicality. It has T.A.E.C and two specially balanced armature drivers for prolonged highs without sibilance or tiredness. Mid frequencies are delivered richly thanks to a bigger single rear-ported balanced armature speaker. Using profoundly engaging mid-frequency tonality and visceral bass response, a specially tuned version of our 10mm A.D.L.C. dynamic driver, enhanced with Polarity Tuned Chamber, anchors the sonic performance.
Handmade Classic
Eeach pair of Solaris 2020 are handcrafted in Portland, Oregon, constructed by Campfires' team of experienced craftsmen is given their full attention and time. Your Solaris will be a world-class earphone unlike any other because to the meticulous attention to detail given throughout the process.
Fantastic earphone calls for a fantastic cable
Four huge conductors of Silver-plated Copper Litz wire make up the new Super Smoky Litz cable. Each conductor is made up of a unique collection of strands with different diameters. The Super Smoky Litz cable has the ideal physical gauge and performance ratio.
Specifications
5Hz–20 kHz Frequency Response
94 dB SPL @ 1kHz: 6.54 mVrms
15.5 Ohms @ 1kHz Impedance
Less than 1% Total Harmonic Distortion
Features
Durable Black PVD Finished Body
Dual Custom Balanced Armature Drivers + T.A.E.C. (High)
Single Updated Custom Balanced Armature Driver (Mid)
Specially Tuned 10mm Dynamic Driver (Mid + Low)
Plasma enhanced Chemical Vapor Depostion (C.V.D.) Amorphous Diamond Like Carbon (A.D.L.C.) Diaphragm.
Beryllium / Copper MMCX Connections
Stainless Steel Spout
If you want to get the most out of your universal-fit in-ears, go for Tailormade custom eartips. As opposed to regular silicone or foam eartips, Tailormade eartips are made to fit exactly your ears and the in-ear model of your choice. This means better sound (due to better isolation), better fit and better comfort. Even more, Tailormade eartips are very durable and hygienic and you can use them with many in-ear models.
But even compared to fully customized IEMs, they are the smarter choice. As opposed to those, you can still share your universal-fit-in-ears with others – and even sell them, should you ever want to upgrade. In a word, Tailomade eartips combine the pros of universal-fit in-ears with custom-fit in-ears (these remain the best choice for the stage).
At the headphone.shop, you get a great discount on Tailormade custom eartips when bundled with high-class in-ears. Find out more here.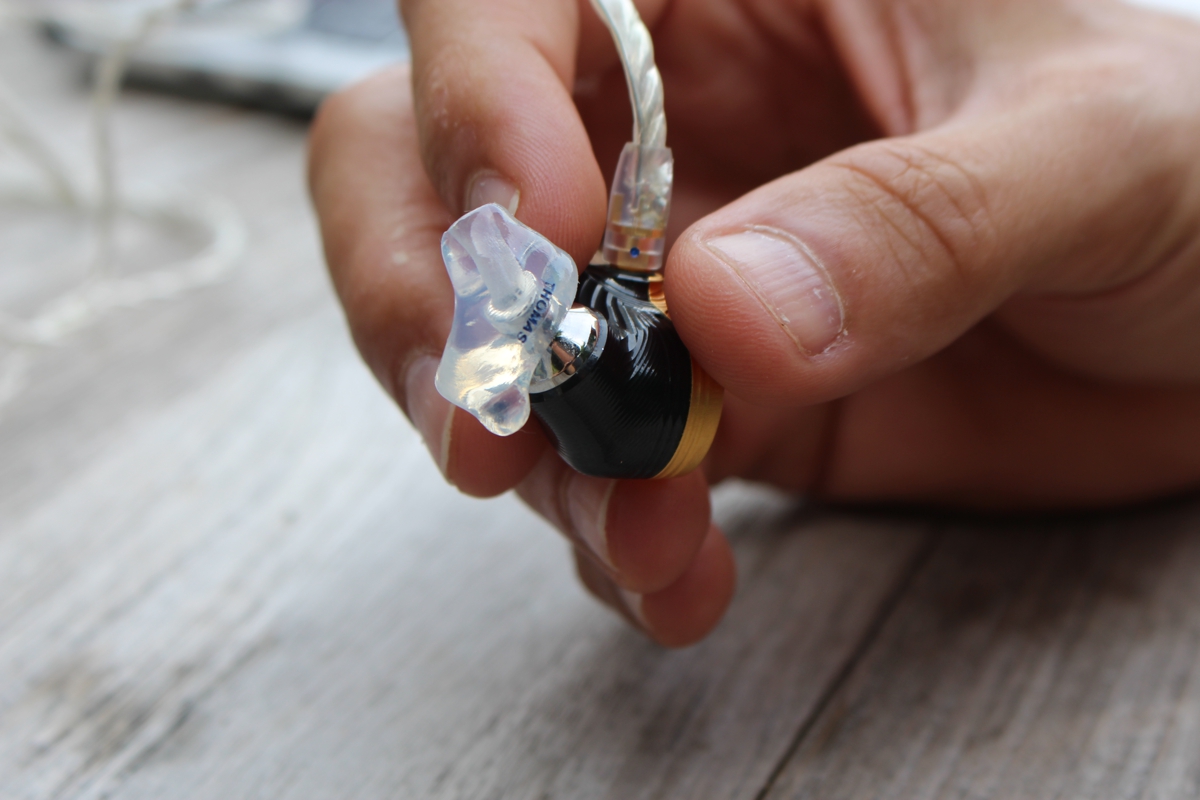 If you want to get the most out of your in-ears, you should consider better cables – and even more the option of having a balanced cable (especially when you have a high-end audio player from Astell & Kern etc.). At the headphone.shop, you get a great discount on selected upgrade cables when bundled with high-class in-ears. Find upgrade cables here.
Related products