Campfire Audio – Ara
Ara is based on the Andromeda Gold, which came as a limited edition in 2019, and was sold faster than we could get it. Compared to the classic Andromeda, Ara has a Quad-bass, which makes it a 7-drivers configuration. Clearly richer, fuller-bodied and more musical, it still delivers brilliant details, just like the Andromeda. A great in-ear!
Upgrade the Ara – and get a great discount on Tailormade custom eartips and upgrade cables (balanced and unbalanced).
Delivery time: on stock
Product Description
Uniquely brilliant and elegant
Campfire Audio has come up with another outstanding earphone that incorporates a whole new concept: a 'Crossover-less' driver design and a Titanium shell that provides a whole new Solid-Body acoustic design. Ara's musical delivery is outstanding in terms of speed and precision. Its sound offers the perfect amount of warmth and richness to harken back to the finest of classic hi-fi and let you enjoy your music as its best.
New Configuration – Solid Body internal chamber
Ara is a balanced armature design with two high (+T.A.E.C.) armatures, one mid, and four low armatures.
To crossover the drivers, it does not utilize traditional passive electrical components. Instead, Campfire uses the acoustic characteristics of their Solid-Body internal chamber architecture to determine the driver's performance. This is a technique Campfire pioneered when developing their custom-fit earphones.
Four bass drivers at first sight indicate a signature with a lot of bass. The well-controlled bass drivers' strong sound foundation, on the other hand, leaves enough of room for the mid and high drivers to shine brilliantly. The Ara earphone is ideal for audiophiles and reference listeners.
Let the beautiful design shine in a quality shell.
Ara's shell, crafted from Grade 2 Titanium billet, is instantly appealing. Instead of anodized CNC aluminum, the faceplate is adorned with a machined titanium shell and three black Torx screws. Leaving the machined titanium raw to appreciate the material's inherent beauty.
Owners will enjoy a shifting finish that will only become more fascinating with time throughout the life of the earphone. Your earphone drivers will be protected in this beautifully made case.
Respectful to Nature with a new more ecologically friendly upgrade
Campfire Audio is proud to offer an exciting new premium cork protective zipper case handcrafted in Portugal by a small team of talented craftsmen who share Campfire's dedication to quality. A thick and durable rubber barrier surrounds sustainably sourced Cork, ensuring that your headphones stay secure while in transportation. The inside is lined with a thick fake wool lining that protects your headphones' anodised finish.
The outer bark of the Cork Oak Tree (Cork Suberus L) is utilized for the cases, and its extraction is completely safe for the tree. During the tree's expected lifespan, the harvest happens every nine years (around 150 years). Harvesting the tree's cork is critical to the cork oak forests' long-term viability. A natural, long-lasting substance that is pleasant to grip.
Specifications
10Hz–28 kHz Frequency Response
94 dB SPL @ 1kHz: 7.094 mVrms
8.5 Ohms @ 1kHz Impedance
Features
Dual High Frequency Balanced Armature Drivers + T.A.E.C.
Single Mid Frequency Balanced Armature Driver
Quad Low Frequency Balanced Armature Drivers
Beryllium / Copper MMCX Connections
Machined Titanium Shell
Tuned Acoustic Expansion Chamber™ (T.A.E.C.)
PVD Black Stainless Steel Spout
Black Screws
If you want to get the most out of your universal-fit in-ears, go for Tailormade custom eartips. As opposed to regular silicone or foam eartips, Tailormade eartips are made to fit exactly your ears and the in-ear model of your choice. This means better sound (due to better isolation), better fit and better comfort. Even more, Tailormade eartips are very durable and hygienic and you can use them with many in-ear models.
But even compared to fully customized IEMs, they are the smarter choice. As opposed to those, you can still share your universal-fit-in-ears with others – and even sell them, should you ever want to upgrade. In a word, Tailomade eartips combine the pros of universal-fit in-ears with custom-fit in-ears (these remain the best choice for the stage).
At the headphone.shop, you get a great discount on Tailormade custom eartips when bundled with high-class in-ears. Find out more here.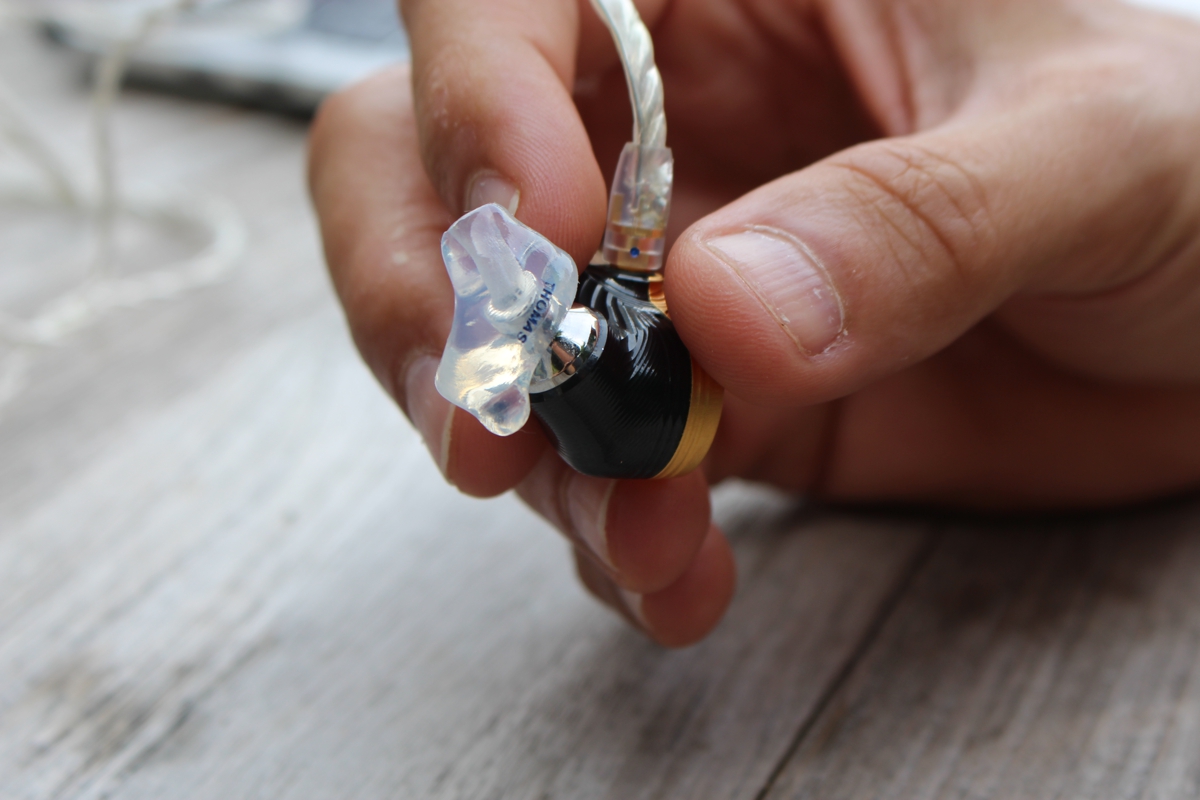 If you want to get the most out of your in-ears, you should consider better cables – and even more the option of having a balanced cable (especially when you have a high-end audio player from Astell & Kern etc.). At the headphone.shop, you get a great discount on selected upgrade cables when bundled with high-class in-ears. Find upgrade cables here.
Related products