Meze – 12 Classics V2
Curtain up for some of the best value in-ears out there. The Meze 12 V2 are based on the best-selling Meze 12 Classics, featuring a pretty serious sound with nice look & feel. Amon all entry-level earphones, it is the No.1 choice for the audiophile connaisseur.
Delivery time: on stock
Product Description
Meze celebrates it's tenth anniversary with an amazing updated Version of the Meze 12 Classics
2021 marks the 10th anniversary of Meze and they are bringing back the classic and elegant design on the Meze 12 Classics, stepping up to Ver.2(V2). Alike the original 12 Classics the design is a fusion of wood and metallic materials, aiming at pressing down resonance frequencies and does not compromise both sound and design even at a very affordable price. Every earpiece has its own patterns and it is amazing to look at.
An upgraded 8mm Titanium plated Mylar fibre dynamic driver ensures very low distortion, there is plenty of details even on phones and laptops. The solid membrane material may give a false impression to sound cool or harsh but Meze manages to get the 12 Classics V2 to sound very neutral and balanced. You will be surprised by how airy, energetic and when well powered, the vocal has great fullness. The 12 Classics V2 can handle male or femal vocals with good authority and performs well with any genres you throw in. Get some higher resolution tracks and stronger output power, and you will not believe how much musicality you can get from this bang for the buck design!
Solid construction
With a straight forward in-ear fitting, an elegant design and solid audio performance, the 12 Classics V2 is ideal for any lifestyle. The implementation of the 8mm titanium coated driver reproduces resolving, natural and well articulated sound, offering an immersive, airy experience. By enabling good space for all frequencies to reveal themselves, the 12 Classics V2 is an expression of musicality and realism.
Ready to travel
When life happens, 12 Classics V2 is the best companion that plays the the tune, on the streets, at home, wherever you are. A reliable textile cable with a coppery touch, packaged with comfortable ear tips and a beautifully designed EVA portable carrying case, ready to get on different journeys.
Specifications
Frequency response: 16Hz – 24KHz
Impedance: 16Ω
Sensitivity: 101dB (+/- 3db)
Total harmonic distortion: < 0.5%
Noise attenuation: up to 26dB
Titanium coated 8mm mylar driver
3.5mm gold-plated jack plug
6N OFC cable, length: 1.2m
No mic & remote
If you want to get the most out of your universal-fit in-ears, go for Tailormade custom eartips. As opposed to regular silicone or foam eartips, Tailormade eartips are made to fit exactly your ears and the in-ear model of your choice. This means better sound (due to better isolation), better fit and better comfort. Even more, Tailormade eartips are very durable and hygienic and you can use them with many in-ear models.
But even compared to fully customized IEMs, they are the smarter choice. As opposed to those, you can still share your universal-fit-in-ears with others – and even sell them, should you ever want to upgrade. In a word, Tailomade eartips combine the pros of universal-fit in-ears with custom-fit in-ears (these remain the best choice for the stage).
At the headphone.shop, you get a great discount on Tailormade custom eartips when bundled with high-class in-ears. Find out more here.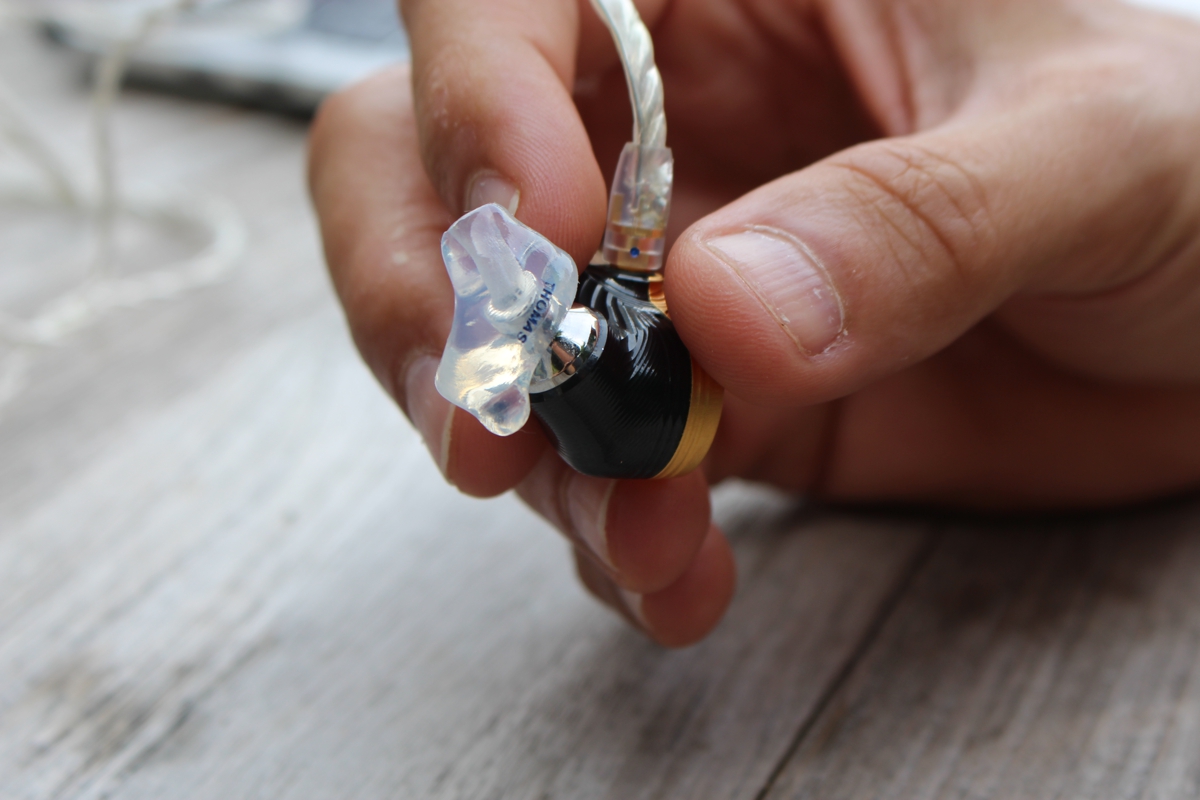 If you want to get the most out of your in-ears, you should consider better cables – and even more the option of having a balanced cable (especially when you have a high-end audio player from Astell & Kern etc.). At the headphone.shop, you get a great discount on selected upgrade cables when bundled with high-class in-ears. Find upgrade cables here.
Related products