Campfire Audio – Mammoth
The Campfire Audio Mammoth is a brilliant hybrid-driver earphone. It's very comfortable for long listening sessions and has a huge and involving sound!
Mammoth's bold and vibrant sound offers a surprising combination of visceral fun and technical brawn. It is an earphone you'll find yourself turning to again and again as it injects raw power to propel your favorite recordings to new sonic heights. Upgrade the Campfire Audio Mammoth – and get a great discount on Tailormade custom eartips and upgrade cables (balanced and unbalanced).
Delivery time: on stock
Product Description
Flourish design: This is where the Mammoth and Holocene start to show their greater differences. Their driver systems are both completely different, even though they use the same 3D-printed acoustic chamber.
The Mammoth features a hybrid system, utilizing a 10mm dynamic driver and two balanced armatures for highs and mids. Meanwhile, the Holocene forgoes a dynamic driver and instead uses three custom balanced armature units, with two dedicated to the midrange, and one for the highs.
Campfire Audio has gone back to its most popular housing design. Most importantly, the Mammoth shares its closest resemblance to the now discontinued Polaris, which this model is replacing. This time it takes on a "frozen tundra blue" which is a nice solid color for the Mammoth's anodized aluminum shell.
This angular build is Campfire's most identifiable design, and one of their most durable. The style of the nozzle makes it so the tips easily fit, and the housing stays secure within your ear. Its housing will rise firmly inside the cavity in your ear, causing no discernable obstructions while listening.
Wearing the Mammouth for long periods of time is a breeze, with minimal fatigue to be had. One of Campfire's newest prospects is introduced in the Mammoth, and it's a rather fun one. The inlays of the Mammoth, as well as the "Smokey Glow" cable, glow in the dark. It's a cool aesthetic flourish that gives the Mammoth a unique identity.
Smoky Glow Look AND Floor Finish
Mammoth uses the same signature, angular Campfire Audio design as iconic earphones like the Campfire Andromeda, and with its blue aluminum shell and black spout, it evokes the recently discontinued Polaris 2. Mammoth has a new twist on the old design, though: glow-in-the-dark accents on each IEM and the new "Smoky Glow" cable that's included.
Mammoth includes all the expected accouterments: the cable, a case, a selection of foam and silicone ear tips, and some little bags for protection and carrying convenience. The case is made from upcycled marine plastic and features a design with a somewhat tropical motif.
The overall feel and comfort arae very much "Campfire." They're generally lightweight, with moderately sized nozzles. The IEMs themselves are average-sized and will provide a fairly easy fit for most listeners.
The cables and other accessories are all quite nice. The glow in the dark bits haven't really stood out in the office, but – other than the fun aesthetic – they actually are useful if you're frequently using Mammoth in lower light environments or at night in bed.
High-Quality Sound  with Balanced Armature drivers
The Mammoth may have a warm and thick sound, but the sound is quite spacious and has good width and air. The treble presence greatly helps these from sounding closed in. There is excellent stereo imaging too, with very accurate placement of instruments within the soundstage.
Genre wise, these work well with a lot of music. Rock is engaging and powerful, pop is snappy and full-sounding, and EDM lovers will really enjoy the Mammoth. The amount of bass on the show without missing out on the midrange and treble works wonders with this kind of music.
Last thoughts about the Campfire Audio Mammoth
The Mammoths are really fun. They take a lot of the strengths of the old Polaris II but improve the midrange and tone down the slightly aggressive treble. This leads the Mammoth to have a more refined and slightly better-balanced sound signature, but make no mistake, these are still tuned to hit hard and deliver a powerful bass-driven sound signature.
This is definitely one for those who enjoy a fuller and bolder sound signature but don't want to lose the midrange and treble. The Mammoth is incredibly engaging yet crisp and detailed at the same time, a very accomplished hybrid earphone.
Specifications
DRIVERS
Hybrid Earphone Design
1 custom balanced armature (Highs)
1 custom balanced armature (Mid)
1 custom 10mm Bio-Cellulose Diaphragm Dynamic Driver (Low)
ENCLOSURE
'Frozen Tundra' Blue Anodized Machined Aluminum
Beryllium / Copper MMCX Connections with Glow in the Dark Overmolds
FREQUENCY RESPONSE
5 Hz to 20 kHz
SENSITIVITY
94db @ 18.6 mVrms
IMPEDANCE
8.1 ohm @ 1K
If you want to get the most out of your universal-fit in-ears, go for Tailormade custom eartips. As opposed to regular silicone or foam eartips, Tailormade eartips are made to fit exactly your ears and the in-ear model of your choice. This means better sound (due to better isolation), better fit and better comfort. Even more, Tailormade eartips are very durable and hygienic and you can use them with many in-ear models.
But even compared to fully customized IEMs, they are the smarter choice. As opposed to those, you can still share your universal-fit-in-ears with others – and even sell them, should you ever want to upgrade. In a word, Tailomade eartips combine the pros of universal-fit in-ears with custom-fit in-ears (these remain the best choice for the stage).
At the headphone.shop, you get a great discount on Tailormade custom eartips when bundled with high-class in-ears. Find out more here.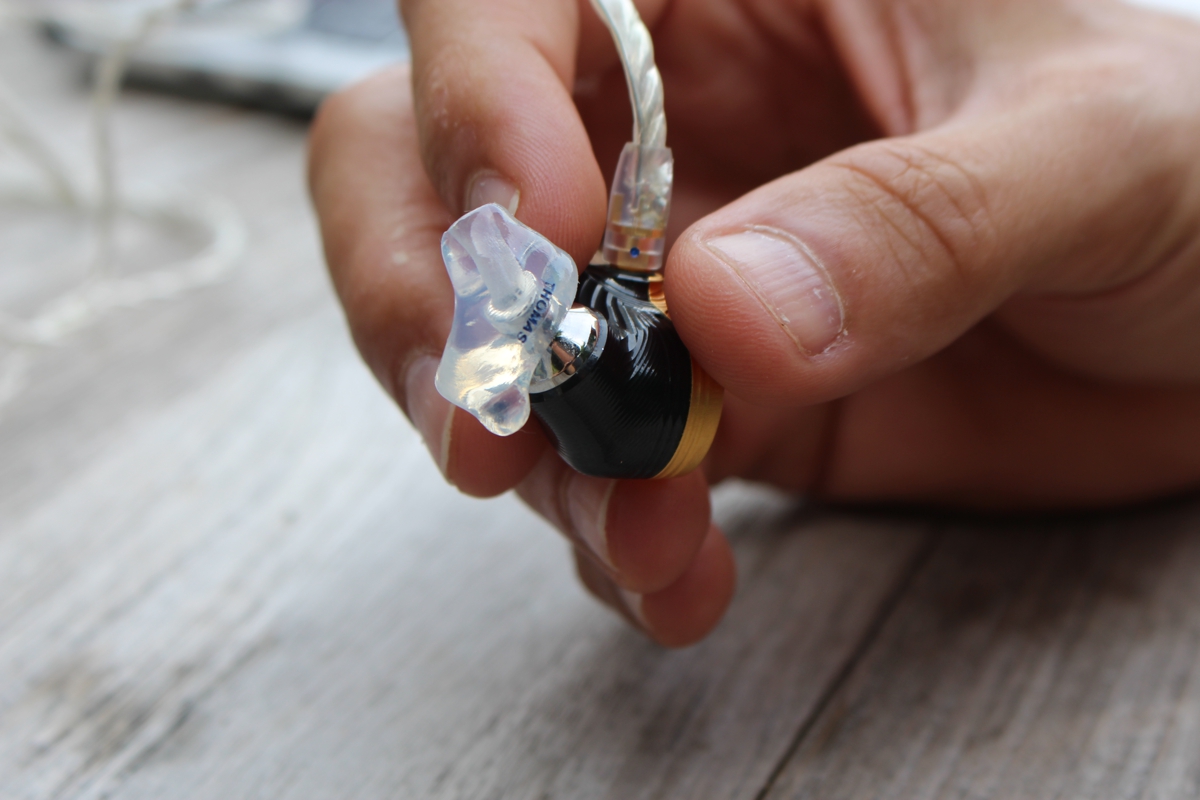 If you want to get the most out of your in-ears, you should consider better cables – and even more the option of having a balanced cable (especially when you have a high-end audio player from Astell & Kern etc.). At the headphone.shop, you get a great discount on selected upgrade cables when bundled with high-class in-ears. Find upgrade cables here.
Related products