Product Description
ZMF Auteur Classic
Design and comfort
The Auteur features our custom ZMF Biocellulose driver. This driver delivers the world's first open, high impedance, bio-cellulose headphone design. The Auteur conveys the legendary ZMF biocelluse sound, with 24 dB of noise isolation.
The auteur takes an engaging musical tilt with a hint of neutrality and great extension. You won't get bored or fatigued, but you won't miss anything from your music, either.
Both lightweight and utilizing ZMF's signature "double headband," you'll always wear the auteur comfortably. The weight of Limited Editions will vary based on the wood offered.
Inspired by French stained glass, the auteur's grille and the overall aesthetic are timeless and intriguing.
Sound
quality of ZMF – Auteur
The Auteur has one of the best tonalities in a high-end pair of headphones. The bass is precise, and definitely not emphasized, but with great extension. The Auteur can reach well over 35-40 Hz but falls apart below that, like any dynamic open-back.
The midrange is extremely pleasant and chill-out, but a bit more forward around 3-4 kHz. The treble is a noticeable step-up, with better clarity, presence, and a sense of air. It's, however, a bit more elevated, especially around 6-7 kHz. The resolution, dynamics, and staging are all pretty solid. While the Auteur does not have the level of micro-detail models,
The staging, in particular, is quite nice and wide, noticeably larger than most open headphones. The macro-dynamics depend a lot on the pads used and are the best with the stock Auteur pads. It is a slightly laid-back-sounding headphone with a decent punch.
Regardless of your taste in sound signature, the auteur will cater to your needs with each set of earpads. Unlike many open designs, the bass extends deep and hits hard when called for.
Zmf offers a wide range of ear pads. As the Auteur is an open headphone, perforated pads are the most suitable. You have the choice between the following: Universe, Auteur, and Eikon Pads, which fit perfectly with the Auteur. Furthermore, you can choose your preferred material: lambskin, suede, or hybrid, which is a mixture of the first two. You can keep in mind that suede pads will push towards a neutral sound.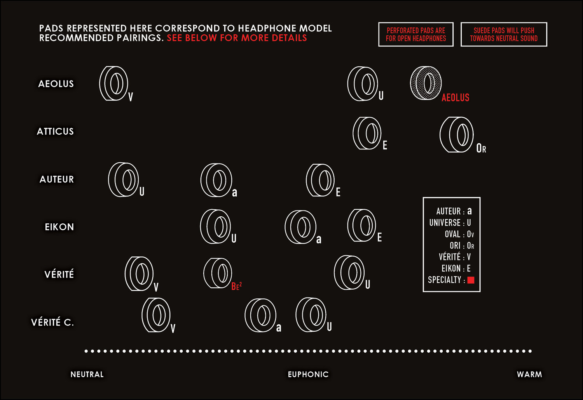 The most recent
thought

on ZMF – Auteur

Gorgeously handcrafted and with a pleasing and engaging sound, the ZMF Auteur is a headphone that was clearly built by enthusiasts for enthusiasts. The ZMF Auteur might be heavy, but that's a small price to pay for its solid construction and good looks.

The Auteur sounds pretty fantastic too. With the exception of the slightly over-emphasized upper mids and lower treble, the Auteur is fantastically smooth, engaging, and punchy. For an open-back headphone, it packs a tremendous bass punch.
Specification
Frequency Response: Approximately 10 Hz to 25 kHz
Current Wood: Ambrosia Maple
Impedance: 300 Ohms
Sensitivity: 97 dB/mW (Auteur) 98 dB/mW (Eikon)
Weight (est.): 470g (Auteur) 530g (Eikon)
Pads: Auteur and Eikon Perforated Pads (Auteur) Eikon Pads (Eikon)
Case: Seahorse SE 340