Empire Ears – Odin
The Odin is Empire's flagship universal design with an amazing 11 proprietary drivers array consisting of 2 DD, 5BA and 4EST drivers. This technical beast has an extremely coherent treble delivery and the highest level of detail retrieval power, brought by highly precise tuning and the brand's 8-way synX cross-over networks. Empire's A.R.C. coating technology is used on drivers to minimized distortion and the resulting sound is incredibly clean, tight, precise yet extremely immersive.
Upgrade the Empire Ears Odin – and get a great discount on Tailormade custom eartips and upgrade cables (balanced and unbalanced).
Delivery time: on stock
Product Description
This sound engineering masterpiece is geared up with dual Weapon IX + drivers, offering plenty of power in the fast impacting bass and good rumbles in the sub bass region. Not only the bass is world class, its extremely smooth and extended treble has mind blowing control and captures every single detail. The reference quality vocal tuning is just as impressive, with a slightly forwarded tuning that put the virtuoso under the spotlight. There is so much control while the tuning is exceedingly vivid and contrasting, and it never gets sibilant or fatiguing that promises the best sound even for very long rides!
Bifröst – A Visual Masterpiece
The Bifröst is an exclusive, unique and artistic design to optically reforms the mythogical rainbow pathway between Midgard and Asgard, the realm of the gods. The Bifrost features a total of nine individual polymer layers pain stakingly put together with three proprietary lamination steps. Each lamination is unique in its ability to filter and reflect specific wavelengths of light and the result is a breathtaking transition effect in every angle.
The Bifröst is masterfully handcrafted in the USA by an award winning chemist, with two patents in polymer science for high solids coating chemistry.
EIVEC technology
The fastly responding electrostatic drivers accompanies ODIN's wide frequency range while remaining balanced and compact. A bespoke transformer unites the quadruple electrostatic drivers via Empire's EIVEC technology to all the other parts under the network, and eliminates all signs of phase incoherence and distortion.
SYNX CROSSOVER NETWORKS
SynX is a supercharged, state-of-the-art crossover architecture that designates more individual frequency bands per driver than any other crossover technology currently in the market. By creating an ultra-wide, multi-channel highway Empire's engineers manipulate specific parts of the frequency range in order to precisely design their target response, eliminating all phase incoherence between drivers. Alternatively, mixing engineers, performers and audiophiles will gain full control of the sound outputs when equalizing through a mixing console or digital audio player, with immersive details and very sensitive response that allows you to pick up every single bit of details.
A.R.C. TECHNOLOGY
The A.R.C. technology is a special design that combines the deposition of advanced polymers, which adds to the relative mass of each component when applied and dried, dampening and reshaping the resonant vibrations. Furthermore, the specific polymeric mixture is engineered to form a specific density that would maximize the vibration absorption. High precision control allows the right rigidity for the right amount of resonance control, also adding and additional layer of protection towards shock and impact, further strengthening the product's life cycle.
Stormbreaker Bespoke cable
An extraordinary IEM requires an extraordinary cable. Empire has collaborated with bespoke cable manufacturer PWAudio and PENTACONN of Japan to forge a cable worthy of Odin. The Stormbreaker, an ultra premium handcrafted cable comprised of a proprietary USA-sourced OCC Copper Litz configured in a quad conductor, dual guage design wrapped in an elegant black carbon jacket, is equipped with every pair of Odin for the best performance.
SPECIFICATIONS
11 Proprietary Drivers, Tribrid Design
2 Next Generation W9+ Subwoofers – Sub-Bass, Bass
5 Proprietary Balanced Armature Drivers – 2 Low-Mid, 2 Mid, 1 Mid-High
4 Premium Electrostatic Drivers – 2 High, 2 Super-High
7-Way synX Crossover Network
EIVEC – Empire Intelligent Variable Electrostatic Control Technology
A.R.C. Resonance Mitigation Technology
Impedance: 3 Ohms @ 1kHz
Frequency Response: 5 Hz – 100kHz
Sensitivity: 108dB @ 1kHz, 1mW
Bespoke Stormbreaker UPOCC Copper Litz Cable, Quad Conductor Dual Guage Design
If you want to get the most out of your universal-fit in-ears, go for Tailormade custom eartips. As opposed to regular silicone or foam eartips, Tailormade eartips are made to fit exactly your ears and the in-ear model of your choice. This means better sound (due to better isolation), better fit and better comfort. Even more, Tailormade eartips are very durable and hygienic and you can use them with many in-ear models.
But even compared to fully customized IEMs, they are the smarter choice. As opposed to those, you can still share your universal-fit-in-ears with others – and even sell them, should you ever want to upgrade. In a word, Tailomade eartips combine the pros of universal-fit in-ears with custom-fit in-ears (these remain the best choice for the stage).
At the headphone.shop, you get a great discount on Tailormade custom eartips when bundled with high-class in-ears. Find out more here.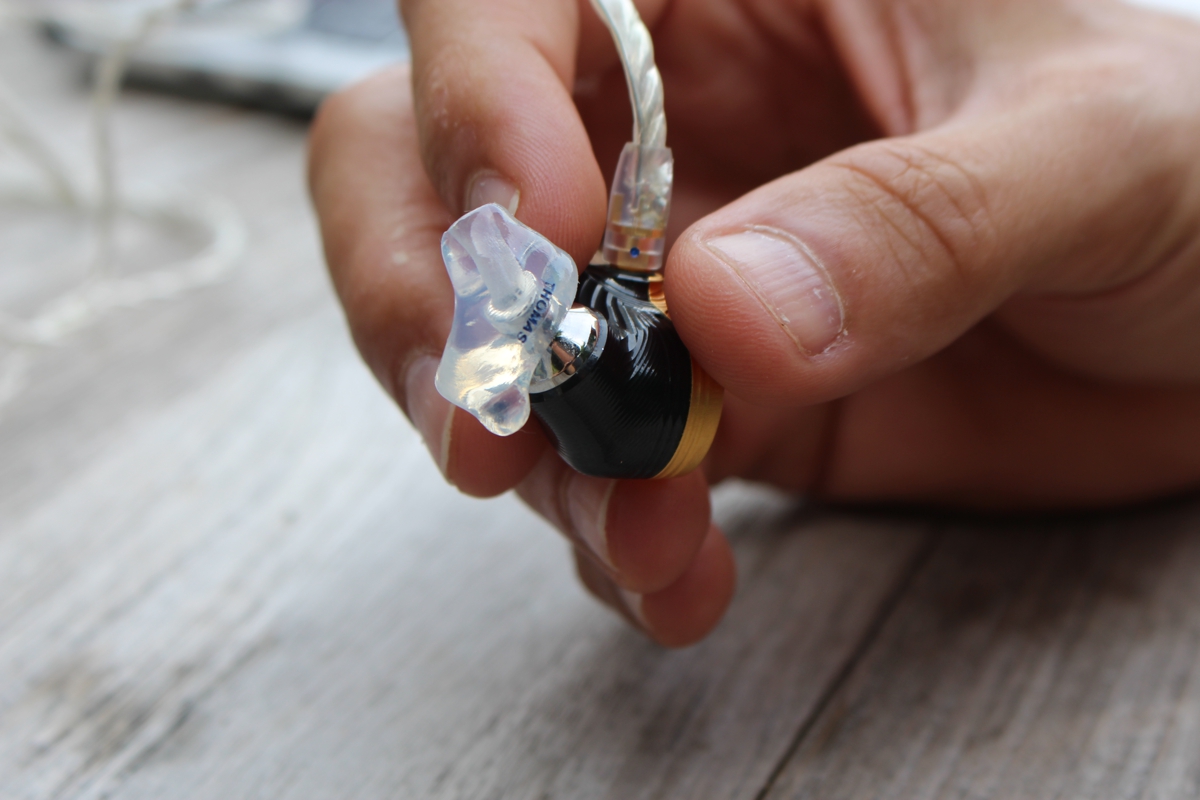 If you want to get the most out of your in-ears, you should consider better cables – and even more the option of having a balanced cable (especially when you have a high-end audio player from Astell & Kern etc.). At the headphone.shop, you get a great discount on selected upgrade cables when bundled with high-class in-ears. Find upgrade cables here.
Related products