64 Audio – U18s
Combining a grand and deep stage and precise imaging, full-bodied mids and rich lows, extremely transparent treble delivery and top tier build quality and design handcrafted in the USA, the U18s is 64 audio's most unique design up to date. The output quality will instantly convince, with mind blowing details yet no emotions and dynamics are sacrificed. The effortless staging expands in all directions with a distinct vocal image, as if you are in the studio with the virtuoso. Ready to go end-game? Take the U18s with you.
Upgrade the 64 Audio U18s – and get a great discount on Tailormade custom eartips and upgrade cables (balanced and unbalanced).
Delivery time: on stock
Product Description
A revolutionary design inspired by nature
64 Audio truly revolutionized the game with the original U18t, world-first 18-balanced-armature earphones. The product design has now taken the heritage further and kicked the envelope of innovation in sound and design beyond what you may have imagined. Combining proprietary drivers, LID technology and a new electronic crossover network, the listening experience is exceptional. Handcrafted in the states of America with aerospace-grade aluminum billet, then CNC milled, sand blasted, fly cut, and twice anodized – the U18s has a striking fractal design that is inspired by nature itself.
18 Drivers and 4-way passive crossover technology
To bring out the highest resolution and extract every single detail in the music, the U18s houses 18 balanced armature drivers. There are 8 drivers for the lows and 8 for the mids, and another 1 for the higher mid-range plus 1 driver that handles the rest in the upper frequencies, like a small orchestra in your ears. The result of this 18-driver configuration is an extremely wide frequency response range and high sensitivity measured 106 dB/mW @ 1kHz.
LID technology
Lid, or Linear Impedance Design, empowers a steady, dependable sound regardless of what source. This exclusive circuit rectifies the non-linear impedances of the drivers, reestablishing legitimate interaction with the source and preserving the desired sound signature. Whether you are an artist stepping into a variety of gear at your different gigs or studios, or an audiophile listening from low-impedance sources like your Laptop, Lid guarantees your IEMs are conveying the specified sound signature reliably and deliver desirable performance at all times.
Tia resonance-free design
With a tubeless design, resonances are reduced to minimum level and such helps offer the most accurate and straight forward sound signature. The tia framework comprises three major components: open adjusted armature tia drivers, the tia single-bore structure, and tia acoustic chambers. The U18s highlights two major components of the tia framework: the tia driver and the tia single-bore design. Tia Driver features an open balanced armature speaker design, which aims at resolution and transparency while being extremely realistic in sound production. The open balanced armature design allows the diaphragm to be not obstructed, giving its full swing and reduces resonance. It is enabling the sound to be travelling much more naturally and transparently to your ears.
Apex venting technology
You may have experienced pressure sealed inside your ear when wearing a custom monitor or a high-grade earphone, but this does not happen on the U18s. The design alleviates listener's fatigue by guiding away air pressure that is trapped in the ear when you wear the earphones. This design allows musicians and enthusiasts to listen more comfortably for long durations and without any fatigue caused by the closed seal.
Custom in-ear monitors provide enhanced isolation and help musicians hear their mix more clearly, even at lower volume level than studio monitors or earbuds. Apex lowers the decibel levels while retaining the sound qualities and clarity, so If you play on stage you can connect to the audience while protecting your hearing.
Specification
Driver Type/Count Eighteen precision balanced armature drivers
Driver Configuration 1 tia high, 1 high-mid, 8 mid, 8 low
Frequency Response 10Hz – 20kHz Sensitivity 106 dB/mW @ 1kHz @ 1mW (84mV) Impedance 8Ω
Crossover Integrated 4-way passive crossover
Isolation -20dB w/ m20 module, -15dB w/ m15 module, -10db w/ mX module
If you want to get the most out of your universal-fit in-ears, go for Tailormade custom eartips. As opposed to regular silicone or foam eartips, Tailormade eartips are made to fit exactly your ears and the in-ear model of your choice. This means better sound (due to better isolation), better fit and better comfort. Even more, Tailormade eartips are very durable and hygienic and you can use them with many in-ear models.
But even compared to fully customized IEMs, they are the smarter choice. As opposed to those, you can still share your universal-fit-in-ears with others – and even sell them, should you ever want to upgrade. In a word, Tailomade eartips combine the pros of universal-fit in-ears with custom-fit in-ears (these remain the best choice for the stage).
At the headphone.shop, you get a great discount on Tailormade custom eartips when bundled with high-class in-ears. Find out more here.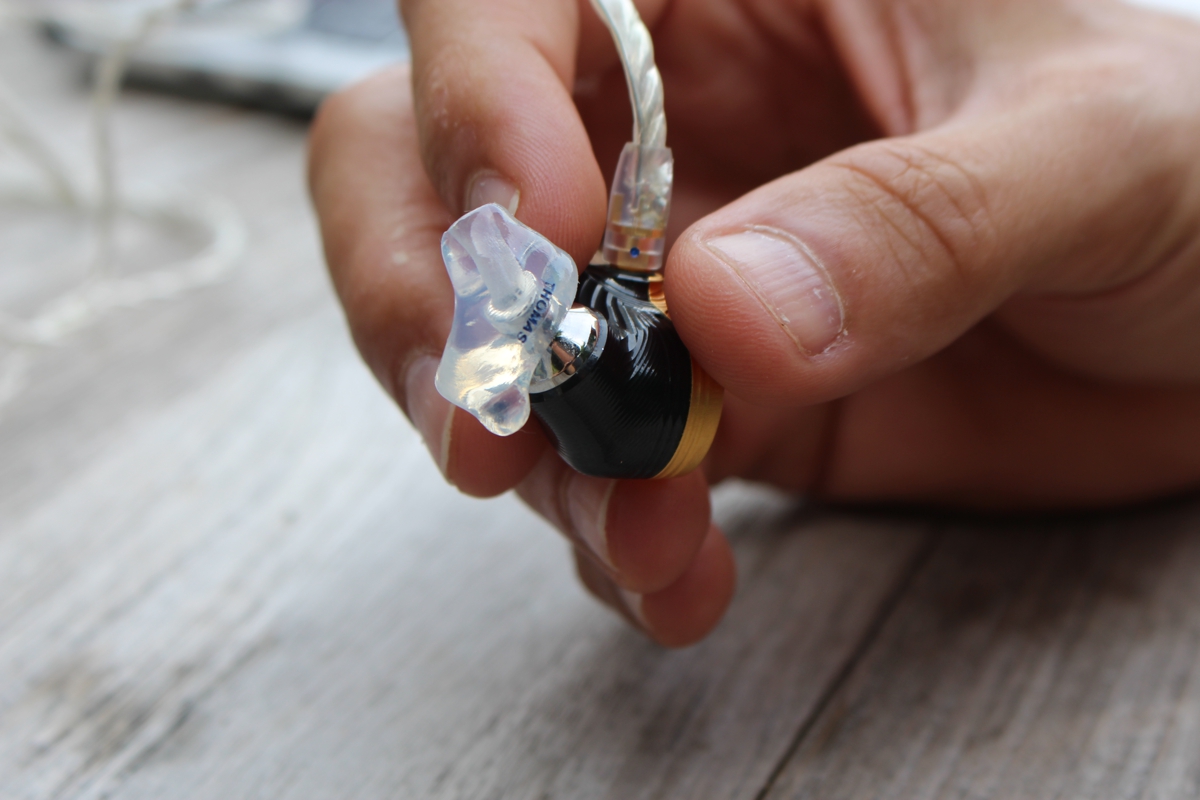 If you want to get the most out of your in-ears, you should consider better cables – and even more the option of having a balanced cable (especially when you have a high-end audio player from Astell & Kern etc.). At the headphone.shop, you get a great discount on selected upgrade cables when bundled with high-class in-ears. Find upgrade cables here.
Related products