JH Audio – Lola
Delivery time: custom-made
Product Description
The JH Audio Lola represents a paradigm shift in what an In-Ear Monitor can achieve. Using innovative hybrid technology, the Lola features dual low balanced armature drivers, dual opposed 4.9mm dynamic mid drivers, and quad balanced armature highs to produce the stunning JH Audio sound signature with a little extra magic in the mid-range.
The fantastic aural experience is delivered via a steel tube triple-bore waveguide with Freqphase. The Performance Universal series achieves a custom-like fit with an ergonomic sound-bore angle and refined shaping of the ear-bowl and helix areas via 3D printing. Lola also uses the Moon Audio 4 pin connector and cable, which allows 15dB of adjustable bass.
A Reinvented Headband Design
Ordinary headphones have the same old "spring-loaded" headband that you've seen a zillion times. They're uncomfortable and they kill the sound quality. Lola's unique multi-jointed headband was inspired by the finely tuned suspension of Formula One race cars. It's elegant. It's comfortable. And it adapts to a variety of head shapes and sizes. Simply put, it's a level of fit and comfort that isn't even possible with other headphones. This innovative design creates a perfect seal around your ear, resulting in powerful bass response, improved isolation, and reduced sound bleed.
Quality Build with Quad Driver
In addition to Jerry Lola Audio's Patented Quad Driver and Freqphase Technology, all Performance Series IEMs feature an ergonomic shape, designed and 3D-printed for maximum fit and comfort for every ear whether listening to music or performing on stage.Lola Hybrid IEMs feature Dual Low and Quad High Balanced Armatures and Dual Dynamic 4.9mm Drivers that utilize patent-pending D.O.M.E Midrange Enclosure Technology.
In order to create the new D.O.M.E technology, Jerry sourced 4.9mm dynamic drivers and designed a phase-correct bandpass enclosure to house them inside the IEM. This tuned enclosure is custom 3D-printed in our lab and holds two 4.9 dynamic drivers that oppose each other, giving Lola a 9.8mm effective midrange driver in a small package.Lola is a balance of power, detail, and warmth. Quick in its bass response, extraordinary in its detail, extension out to 20kHz, and a natural, silky, airy, gorgeous midrange courtesy of our D.O.M.E technology. Lola has an extraordinary analog sound stage that complements string instruments, as well as vocals, and makes a '58 Les Paul through a Marshall 4×12 cabinet sound kick ass.U.S. Patent No. 8,897,463.
Lola For Musicians 
Lola will inspire your best takes and provide the detail you need to make good mixing decisions and create mixes that translate everywhere. Whether you're mixing or tracking, Lola reveals subtle nuances that can make the difference between a good track and a great one. They're the first headphones that are both accurate and inspiring. And the ergonomics provide amazing isolation and comfort during long studio days.
Last Word about this JH LoLa
If you're a music purist who's in love with vinyl, then prepare yourself for the silky tonality of the Lola. This IEM's sound profile takes you out of the world of digital and transports you back into the raw sound of the 1960s.
Specification
Hybrid design with DOME dynamic mid range
Integrated 3-way crossover
Freqphase time|phase WaveGuide
Frequency response: 20Hz – 20KHz
Impedance: 16 ohms
Noise Isolation: -26dB
Input Sensitivity: 118dB @ 1mW
If you want to get the most out of your universal-fit in-ears, go for Tailormade custom eartips. As opposed to regular silicone or foam eartips, Tailormade eartips are made to fit exactly your ears and the in-ear model of your choice. This means better sound (due to better isolation), better fit and better comfort. Even more, Tailormade eartips are very durable and hygienic and you can use them with many in-ear models.
But even compared to fully customized IEMs, they are the smarter choice. As opposed to those, you can still share your universal-fit-in-ears with others – and even sell them, should you ever want to upgrade. In a word, Tailomade eartips combine the pros of universal-fit in-ears with custom-fit in-ears (these remain the best choice for the stage).
At the headphone.shop, you get a great discount on Tailormade custom eartips when bundled with high-class in-ears. Find out more here.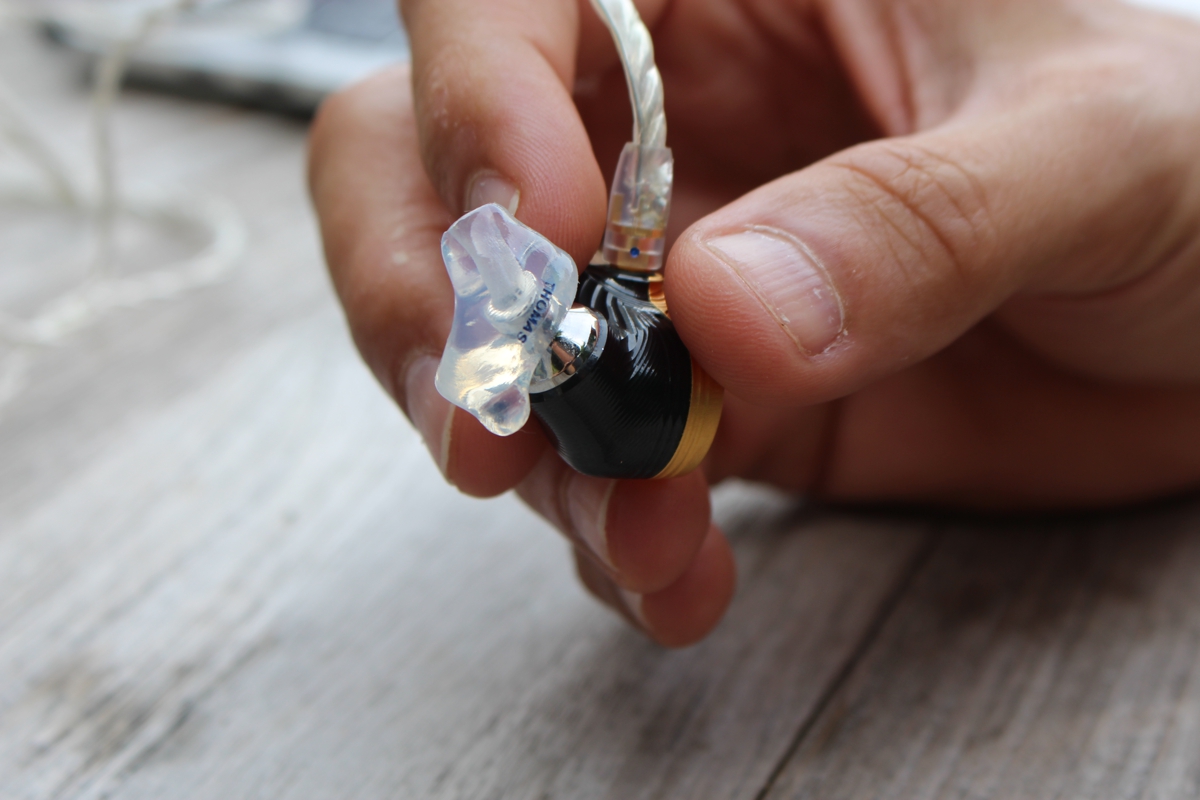 If you want to get the most out of your in-ears, you should consider better cables – and even more the option of having a balanced cable (especially when you have a high-end audio player from Astell & Kern etc.). At the headphone.shop, you get a great discount on selected upgrade cables when bundled with high-class in-ears. Find upgrade cables here.
Related products