Campfire Audio – Holocene
The "Holocenen-sound" beams you into the music, transporting you directly, back in time, to the recording to observe the nuance like never before. Navigating an age of culture requires an appreciation of nuance and subtly. Holocene is your vessel for this journey…
Upgrade the Campfire Audio Holocene – and get a great discount on Tailormade custom eartips and upgrade cables (balanced and unbalanced).
Delivery time: on stock
Product Description
Holocene features a single custom balanced armature for highs and two independent custom balanced armatures covering mids and lows. These drivers are combined and optimized with Campfire Audio's signature 3D printing acoustic chamber design. This harmony of driver and design elevates the musical experience of Holocene.
Aesthetic Design with 3-way Balanced Armature drivers
Featuring three Balanced Armature drivers, the Holocene has the entire frequency response covered. From the deepest bass notes to piercing treble, the Holocene seamlessly covers the full sweep of your favorite music. Every subtle nuance is revealed, letting you get to the very heart of the music.
The Holocene is adorned with glow-in-the-dark elements. The Campfire Audio inlay logo, the new 'Smoky Glow' cable over molds, and the 'Epoch' case features. Charge them with light and enjoy the show when the lights go out, and the stars come into view.
Its shell is machined from aluminum and anodized in an 'umber' finish, set with black tri-lobe screws and a black PVD finished stainless steel spout. Holocene is completed with custom beryllium copper mmcx connectors, ensuring years of stable performance from your cable connection.
Upcycled Marine Plastic in the form of SEAQUAL® YARN makes up the rugged outer layer of the Campfire Audio Holocene zipper case. The glow performance of the luminous zipper and plaque is exceptional.The new smooth pulling plastic tooth zipper offers a superior experience.
Each case pattern design is unique, and each is one of a kind. The 'Epoch' color palette ranges from rainforest greens to aquatic blues. Mysterious geometric shapes float freely and collide in unexpected ways. These are fun cases that protect your earphones and give you something fun to enjoy.
Optimum Comfort
The Holocene presents a very decent soundstage. In terms of how well it stacks up to Campfire's other models, the imaging is a bit wider than expected. Some sounds leak into a more outward headspace, adding just enough flavor to the soundstage to be immersive. Separation was also noticeably improved here compared to other Campfire models.
It may even be one of the best of the bunch in that regard. Layering is super articulate and lets sounds breathe in their respective spaces. Greater height is also added in order to lift the image from a more linear response. Surprisingly, the Holocene is also able to keep its solidity without going into muddled territory. The spatial imaging makes certain tracks sound grand while maintaining their composure toward a middle position and sharing a more immersive sense of width.
Normally, Campfire likes to pack their IEMs with a ton of power. Most of their selection has an incomparably strong signal flow, and the Holocene is no different. However, it's not exactly as chunky of an output as some of their past models, but it still has a consistently strong amplitude.
Even listening through a standard 3.5mm headphone jack on your smartphone or laptop, the Holocene will still feature high levels of volume, so watching your gain control is still recommended.
Last Thoughts Campfire Audio Holocene
The Holocene is one of the best mid-tier IEMs Campfire has to offer. Its sound signature is well balanced and rich in certain bands of frequency. The design is as solid as always, and its soundstage is wide and layered. As for the glow-in-the-dark features, they're more minimal, but at the end of the day, it is just a fun gimmick that doesn't add or subtract anything from the listening experience.
Specifications
5Hz–20 kHz Frequency Response
94 dB SPL @ 1kHz: 6.99 mVrms
5.4 Ohms @ 1kHz Impedance
Machined Aluminum Body
'Umber' Anodized Finish
Single Custom Balanced Armature (High)
Single Custom Balanced Armature (Mid/Low)
Single Custom Balanced Armature (Mid/Low)
Custom Beryllium / Copper MMCX Connections
Black PVD Finished Stainless Steel Spout
'Smoky Glow' Silver Plated Copper Litz Cable – 3.5mm Stereo to MMCX connectors
If you want to get the most out of your universal-fit in-ears, go for Tailormade custom eartips. As opposed to regular silicone or foam eartips, Tailormade eartips are made to fit exactly your ears and the in-ear model of your choice. This means better sound (due to better isolation), better fit and better comfort. Even more, Tailormade eartips are very durable and hygienic and you can use them with many in-ear models.
But even compared to fully customized IEMs, they are the smarter choice. As opposed to those, you can still share your universal-fit-in-ears with others – and even sell them, should you ever want to upgrade. In a word, Tailomade eartips combine the pros of universal-fit in-ears with custom-fit in-ears (these remain the best choice for the stage).
At the headphone.shop, you get a great discount on Tailormade custom eartips when bundled with high-class in-ears. Find out more here.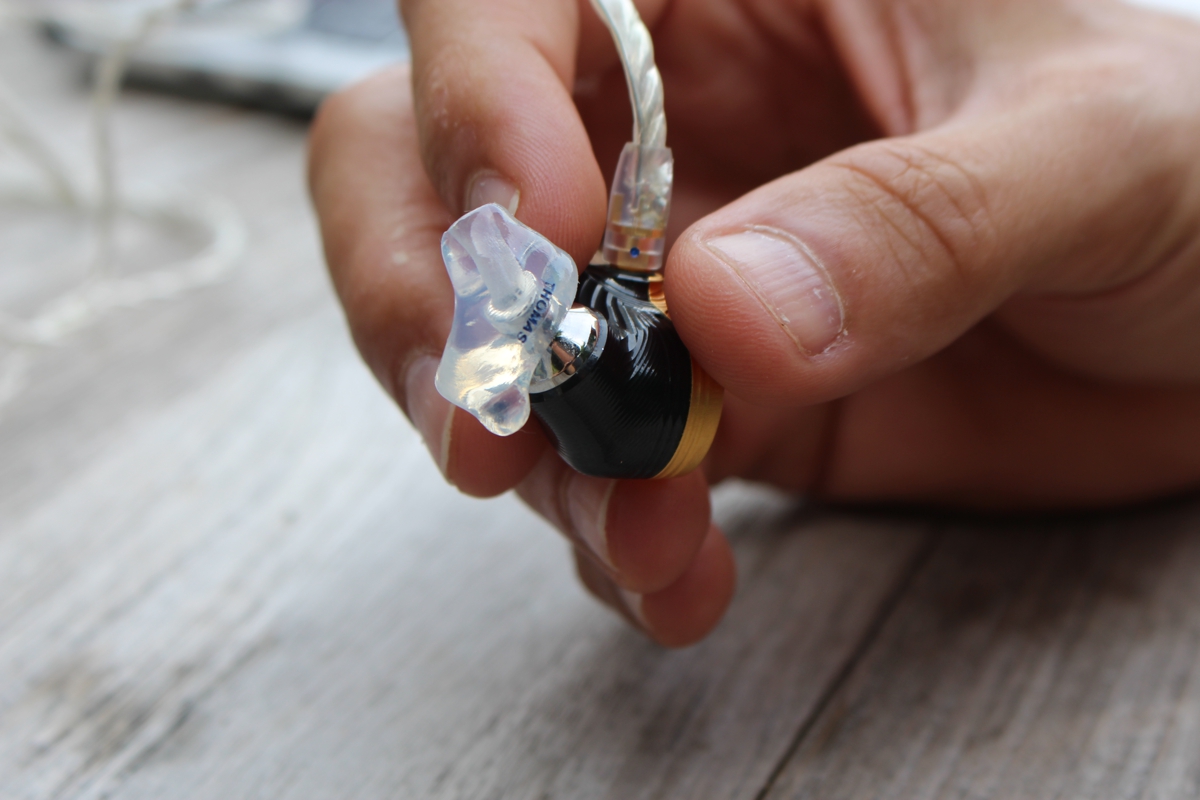 If you want to get the most out of your in-ears, you should consider better cables – and even more the option of having a balanced cable (especially when you have a high-end audio player from Astell & Kern etc.). At the headphone.shop, you get a great discount on selected upgrade cables when bundled with high-class in-ears. Find upgrade cables here.
Related products