Final Audio – D8000
Final enters the arena of planar-magnetic headphones with the D8000 that is able to create a sound that combines the delicate high-frequency range of planar magnetic drivers, and the low-frequency range with open feeling and impact of dynamic headphones. Newly developed damping systems make sure the D8000 outperforms any planar-magnetic or dynamic headphone, redefining the sound and possibilities as only Final can.
Delivery time: on stock
Product Description
Listening to the D8000 opens up new discoveries from listening to the music that will make you want to listen to your library over and over again. The Final D8000 is a headphone listening experience where you can actually feel deeper with new realms of music opening up in front of you.
A breakthrough in planar magnetic design with the Final D8000 is the thin air film also used in condenser microphones mixed with a perforated mesh metal. The result is the process called the Air Film Dampening System. This technology in combination with the spiral coil creates a unique sound signature that results in heightened bass response.
Aesthetic Design with Circumaural Planar Magnetic Drive
The D8000 is an 'open-back full-size or circumaural planar magnetic headphone. At a distance, it does actually look like a closed headphone with its hard black plastics covering a large portion of the front cup plate. However, towards the center and behind the headband support, you will see the open design in silver.
AFDS solved the problem of the diaphragm contacting the magnet, so it was possible to lower the frequency of bass that the driver unit can play. It made it possible to reproduce bass that combines volume sense and openness, which could previously only be expressed in high-end dynamic headphone designs, in conjunction with breathable earpads.
The cutting enclosure made of aluminum-magnesium alloy has been cut with high precision. In order to establish the Air Film Dampening System, extremely high accuracy is required compared with traditional drivers. By applying a leather paint finish that is used for high-end cameras, Final is also taking measures against unwanted vibrations.
Newly developed cables for D8000 include a cable with a 3.5mm mini-plug termination with a 1.5m length for portable use and a 6.35mm standard plug termination for home listening. Optional silver connector cables for various connectors, including balanced types, are scheduled separately.
High-Quality Sound System with Optimum Comfort
Final D8000 combines the characteristics of planar-magnetic systems and dynamic systems. The D8000 is able to convey delicate sounds at high frequencies, like typical planar-magnetic types, and produces an open-feeling with rich sound at low frequencies, typical for dynamic systems.
Instrumental work, particularly guitar and lower-pitched string work, will be in the fore, but they also carry a bit of warmth and a natural sounding timbre with a slightly north of neutral level in the body.
Last Thoughts on the D8000
The D8000 has strong technical capabilities, and delivers flagship-level detail and resolution, but also delivers a low-end punch to keep the bass heads on board. If you're looking for truly top-tier headphones tuned for rock, pop, hip hop, and EDM, the D8000 will give you a true top-of-the-line experience that doesn't leave out the bottom end.
Specifications
Type: Planar magnetic headphone with air-film damping system
Driver complement: Full range AFDS planar magnetic driver
Maximum SPL: 98dB
Impedance: 60 Ohms
Frequency response: Not specified
Weight: 523g
If you want to get the most out of your universal-fit in-ears, go for Tailormade custom eartips. As opposed to regular silicone or foam eartips, Tailormade eartips are made to fit exactly your ears and the in-ear model of your choice. This means better sound (due to better isolation), better fit and better comfort. Even more, Tailormade eartips are very durable and hygienic and you can use them with many in-ear models.
But even compared to fully customized IEMs, they are the smarter choice. As opposed to those, you can still share your universal-fit-in-ears with others – and even sell them, should you ever want to upgrade. In a word, Tailomade eartips combine the pros of universal-fit in-ears with custom-fit in-ears (these remain the best choice for the stage).
At the headphone.shop, you get a great discount on Tailormade custom eartips when bundled with high-class in-ears. Find out more here.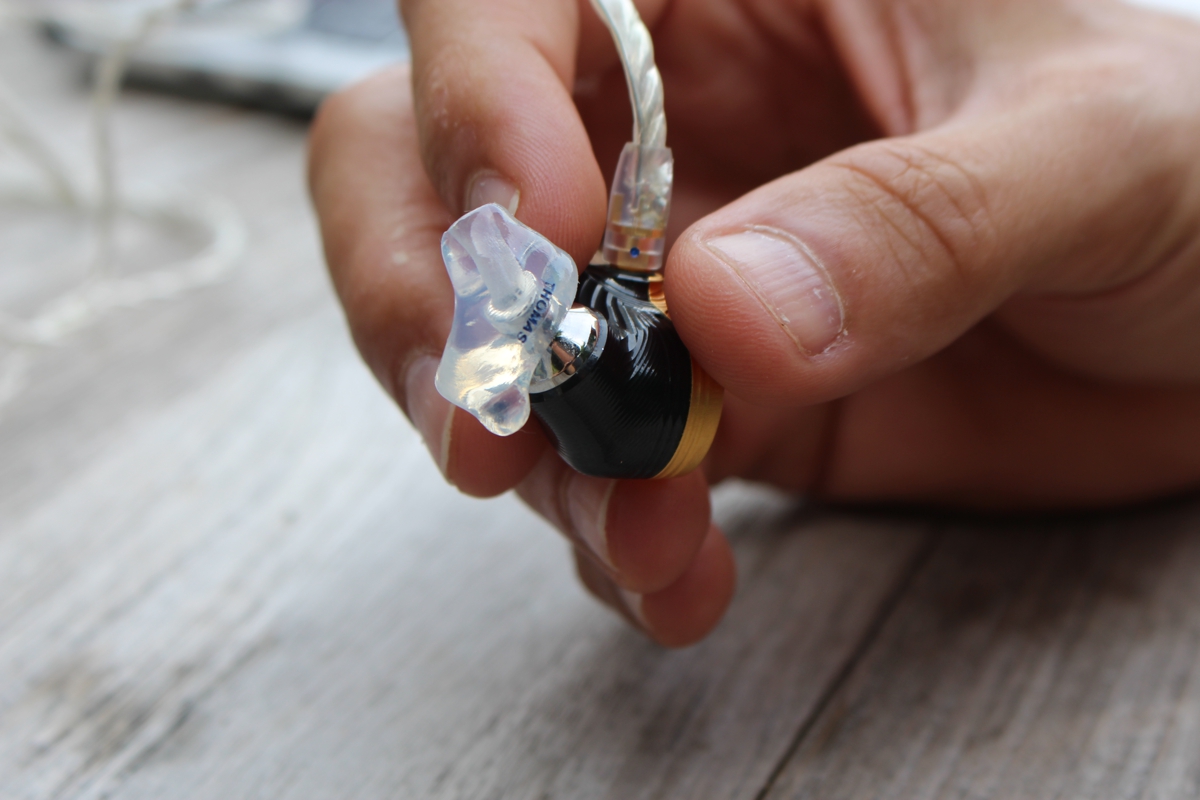 Related products