Meze – Rai Solo
The Rai Solo is Meze's entry-level to the Rai family. Superbly crafted earphones with a close-to perfect fit and gracious design. The Rai Solo is a real bargain considering the effort that it takes to build them. Sound-wise, they are nicely balanced. No blockbusters by any means and neither made to impress with sharp peaks. They have a great signature for relaxed long-term hearing-sessions.
Delivery time: on stock
Product Description
Outstanding Sound Stage and premium materials
The Meze Rai Solo is premiumly crafted from solid metallic blocks, with a highly balanced tuning that does not compromise dynamics and details, plus a huge soundstage. The hand brushed, low resonance stainless-steel housing fits in selected dynamic drivers, outputting excellent clarity, deep-punching bass impact that doesn't distort even when playing beefy rock music loud. The Rai Solo is very well extended with no sibilance, effortlessly delivering the treble without masking the midrange, which further enlarges the headroom. The background is extremely dark and you will be able to pick up plenty of micro details with its precise tuning and layered, control bass.
The Rai solo is very adaptive with different genres of music, and you will be surprised by how well it works with different sources, on my phones it sounds amazing but when you put it on a powerful audio player you will probably jump! Top choice if you want a precisely tuned IEM with top notch build quality, and a very friendly price tag!
Designed to deliver excellent value and audiophile-grade performance
The Rai Solo is part of the Rai IEM family and has a similar look to the Rai Penta, but it is considerably more affordable since it just has one driver instead of the more complicated 5 x BA setup seen in the Rai Penta. Yet it has inherited a lot of the design DNA and design merits. Ergonomically design, the robust stainless-steel casing with maticulously tuned dynamic drivers provide a clean and resolving listening experience. As the rigid alloy does not easily resonance with the driver, it helps to lower distortion and create an accurate, well-defined image.
Premium build quality
Built like a tank and having the DNA of Rai Penta, the Rai Solo is one of the most durable IEM we have seen with a beautiful hand brushed finishing. Not only does the solid housing possess superior qualities that strengthen the audio performance, the detachable MMCX cable is not to be looked down – a 3.5mm, four-wire litz cable with 20 silver-plated copper strands on each wire comes with the Rai Solo to make sure no sound quality is compromised. All these contributes to an extremely dark background and very defined imaging.
Wire-free construction, with a fun-neutral signature
Inside traditional electrodynamic drivers, the voice coil lead wires are attached to the back side of the thin membrane, which causes unwanted vibrations.
The new UPM driver design on the Rai Solo has the diaphragms on the drivers freed from wires, contributing to a more symmetric piston action which almost eliminates cone flexing by removing the two voice coil feed wires. As a result, the Rai Solo has minimalize harmonic distortion, and you will hear a highly balanced, controlled signature with very clean but engaging mid-range, and excellent low-frequency reproduction.
Specifications
Driver: 9.2mm UPM dynamic driver
Diaphragm thickness: 9µm
Impedance: 16 Ohm
SPL: 105±3dB at 1mW/1kHz
Frequency response: 18Hz – 22kHz
Distortion: <1% at 1mW/1kHz
Stock cables: MMCX connector ending in 3.5mm
Warranty period: 2 years
If you want to get the most out of your universal-fit in-ears, go for Tailormade custom eartips. As opposed to regular silicone or foam eartips, Tailormade eartips are made to fit exactly your ears and the in-ear model of your choice. This means better sound (due to better isolation), better fit and better comfort. Even more, Tailormade eartips are very durable and hygienic and you can use them with many in-ear models.
But even compared to fully customized IEMs, they are the smarter choice. As opposed to those, you can still share your universal-fit-in-ears with others – and even sell them, should you ever want to upgrade. In a word, Tailomade eartips combine the pros of universal-fit in-ears with custom-fit in-ears (these remain the best choice for the stage).
At the headphone.shop, you get a great discount on Tailormade custom eartips when bundled with high-class in-ears. Find out more here.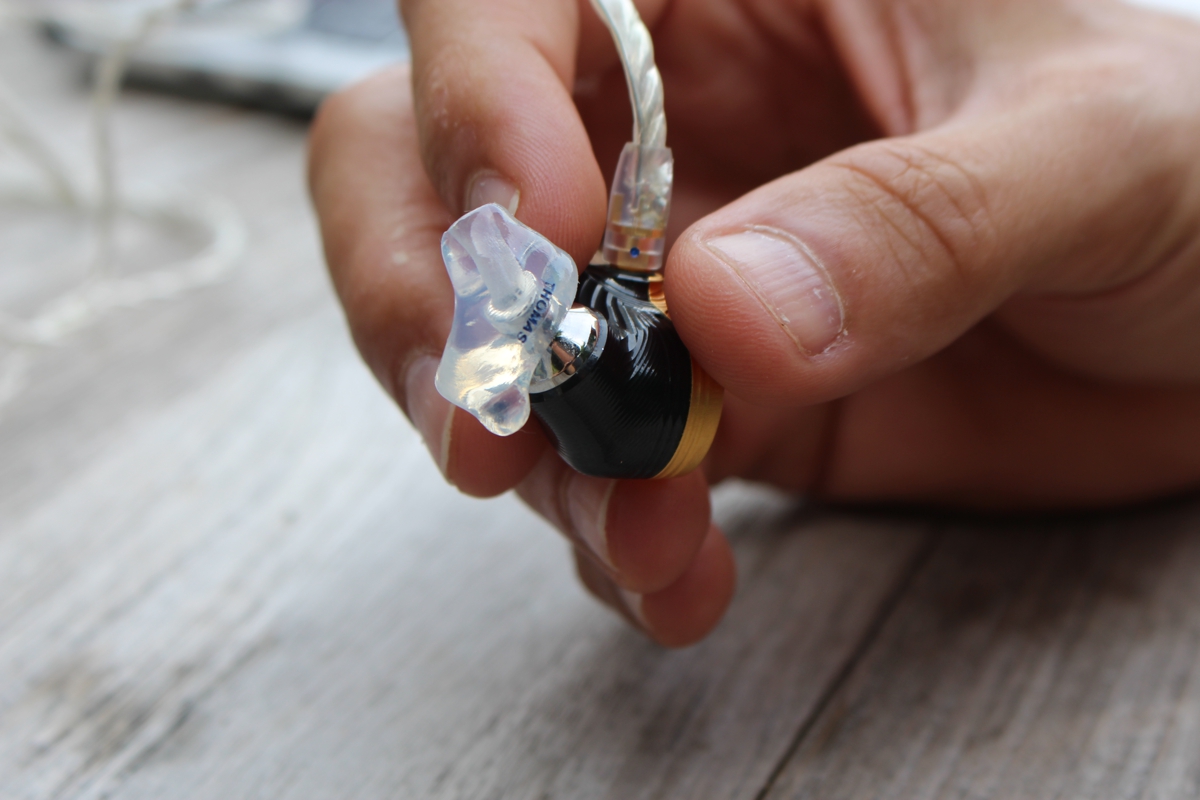 If you want to get the most out of your in-ears, you should consider better cables – and even more the option of having a balanced cable (especially when you have a high-end audio player from Astell & Kern etc.). At the headphone.shop, you get a great discount on selected upgrade cables when bundled with high-class in-ears. Find upgrade cables here.
Related products