JH Audio – Jimi
A funky, smooth, yet electric IEM, Jimi is configured with seven balanced armatures and loaded with all of the newest tech, including a 7-pin cable design, built-in Acoustic Sound Chamber, and Purple Haze, a stunning new Signature Design offering comprised of live edge wood and resin that'll take your breath away.
Delivery time: custom-made
Product Description
The Jimi AION Universal Fit IEM is manufactured and milled in the outstanding Purple Haze Signature Design, offering a 7-driver configuration, a Black 48″ 7-pin connector and cable, Custom Engraved Round Case, Sonic Tube Chassis, and Acoustic Sound Chamber.
This is JH Audio's first Universal IEM in their newest featured and upgraded Signature Design. They will be numbered and include a Metal Limited Edition card engraved with the number of the IEM.
Purple Haze signature design
The signature design "Purple Haze" is adopted based on the combination of resin and live edge wood. Molded with an ergonomic design that enables JH Audio's many years of experience and know-how in custom IEM production, it achieves a fit, stability, and sound insulation that are thinner than custom IEMs. The striking faceplate design with the gold logo makes the Jimi a beautiful in-ear.
With 7 drivers, you get the best sound quality
JH Audio's patented original mini quad driver (4 BA drivers) configuration "soundrIVe (sound live) technology" is adopted. Jimi AION provides a wide range of sound by configuring 7 drivers (low range x 2, mid-range x 1, high range x 4) in one housing.
The stage Jimi AION does a great job of making specific tracks sound big, like big rock sounds, pounding tympani, and pulsating synth tracks. The drum sections on rock tracks also sound much greater on the JIMI AION, bringing out a fuller space. While separation and spatial imaging feel accurate and clear, instrumental sections get to take their place in the sound field with proper resolution.
The final word on Jimi AION
The JIMI AION might be hard to come by, but if you love rock and roll, and are looking for a high-end IEM to produce those grimy electrics and pounding drums, these earphones might be for you. However, if comfort is really important to you, this JIMI AION might be a better option.
Specification
Product name
Jimi AION
format
Universal Fit IEM (In-Ear Monitor)
unit
Custom-made balanced armature driver

(L / R 7 drivers each / High 4, Mid 1, Low 2), 3-way configuration)

frequency band
10Hz-23kHz
Input sensitivity
117dB @ 1mW
Impedance
17Ω
Connector shape
Original 7pin connector with lock mechanism
accessories
Aluminum carrying case

IEM cable (3.5mm 3 poles / 7pin / low frequency adjustment function)

Silicon earpiece (S / M / L), foam earpiece (S / M / L)

low frequency adjustment screwdriver, cleaning brush
If you want to get the most out of your universal-fit in-ears, go for Tailormade custom eartips. As opposed to regular silicone or foam eartips, Tailormade eartips are made to fit exactly your ears and the in-ear model of your choice. This means better sound (due to better isolation), better fit and better comfort. Even more, Tailormade eartips are very durable and hygienic and you can use them with many in-ear models.
But even compared to fully customized IEMs, they are the smarter choice. As opposed to those, you can still share your universal-fit-in-ears with others – and even sell them, should you ever want to upgrade. In a word, Tailomade eartips combine the pros of universal-fit in-ears with custom-fit in-ears (these remain the best choice for the stage).
At the headphone.shop, you get a great discount on Tailormade custom eartips when bundled with high-class in-ears. Find out more here.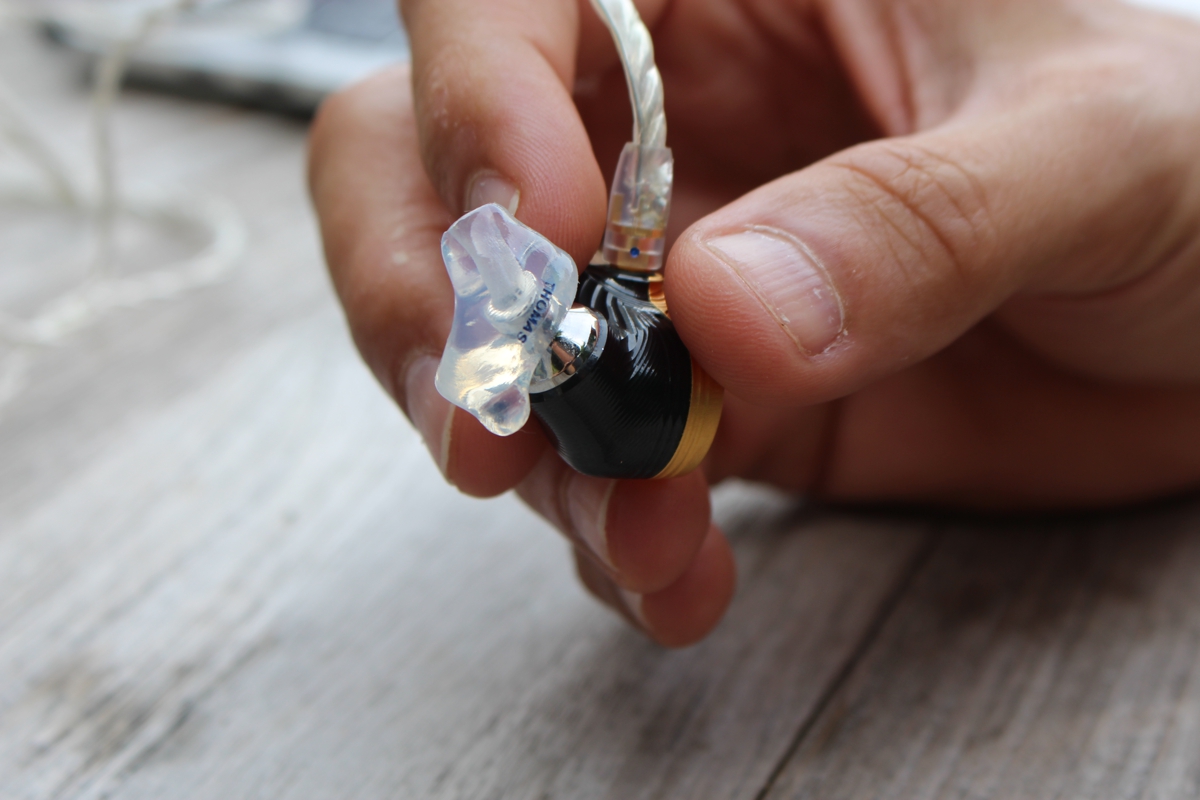 If you want to get the most out of your in-ears, you should consider better cables – and even more the option of having a balanced cable (especially when you have a high-end audio player from Astell & Kern etc.). At the headphone.shop, you get a great discount on selected upgrade cables when bundled with high-class in-ears. Find upgrade cables here.
Related products