JH Audio – JH16 v2 pro custom
The JH16 V2 gives double the bass drivers of the JH13 V2, for extra low-end kick to complement the musical midrange and tasteful high-end tuning. A great in-ear for bass fans, and of course, you can tailor the bass level to your preference with the adjustable bass control built right into the cable! A great feature!
Delivery time: custom-made
Product Description
In addition to Jerry Harvey Audio's Patented Quad Driver and Freqphase Technology, all Performance Series IEMs feature an ergonomic shape, designed and 3D-printed for maximum fit and comfort for every ear whether listening to music or performing on stage.
The JH16 Pro secured its place among the most coveted in-ear monitors used by the biggest touring artists in the world. Now, with major upgrades, the updated JH16v2 Performance UF provides off-the-charts performance you have to hear to believe.
Newly designed Balanced Armatures allow for low and high frequency extension, and JHAudio's patented variable bass allows you to adjust +/-10db on the quad low driver without affecting the performance of the mids or highs. The quad high driver has a flat extension out to 23KHz, making it possible to hear high frequency details like never before.
Aesthetic Build Quality with Proprietary Precision-Balanced Armatures Driver
Proprietary Precision-Balanced Armatures SoundrIVe technology powers a ten-driver configuration:Premium 4-Pin Litz Wire Cable with Machined Aluminum Locking Collar is brand new.
High Purity OFC 4N Silver-Plated Cable will not oxidize. Pending Patentvariable bass output, controlled by the cable; user-controlled low-frequency drivers with adjustable bass (0 to +10db).Variable Bass Attenuator design is 43% smaller than the 1st Generation 4-Pin Cable. Input Connector: 1/8″ (3.5mm), Gold-Plated Integrated 3-Way Crossover.
The cable has a 4-pin connection with an aluminum locking collar. The input connector is T-shaped, gold-plated and 3.5mm. The neatest feature about the JH16V2 is its variable bass output, which is adjustable from the cable.
The in-ear comes with a little screwdriver to adapt the bass to your specific needs. If you're a drummer, for example, you might want to hear the lower frequencies over the high. If you're an audiophile, then you can screw away to your heart's content.
High Quality with Optimum Comfort
Pumping out bass is one of the strong points of the JH16, as is an expansively wide soundstage, punchy and dynamic sound, and high levels of detail.  The biggest issue is the soundstage depth and height, which lead to a presentation that is wide but in a line that results in less than ideal instrument placement and recreation of the overall presentation.
Swaying to the analytical side, the JH16 does allow hearing the nuances of recordings, but due to the upper midrange/lower treble peak, the clarity is often recreated that isn't in the original recording. Along those lines, the bass enhancement is in the on position at all times, which can lead to enhanced bass in genres where it doesn't sound like it should be there. The overall technical performance of the JH16 is very good,  and especially the music you listen to will play into how much you enjoy what it does.
Last Thoughts about JH Audio-JH16 v2 Pro
The JH16 gives new meaning to bass with a performance that combines enhancement with dynamics, detail, punch, speed, and rumble.  Instrument detail is plentiful across the spectrum with an added liquidity to the vocal range and an enhancement in the upper mids/lower treble that accentuates the clarity.  Soundstage width is great and competes with/bests similarly priced custom IEMs.
Specification
Proprietary Precision-Balanced Armatures
Double Dual Lows, Single Dual Mid, Single Dual High
Integrated 3-Way Crossover
Triple Bore
Noise Isolation: -26dB
Input Connector: 1/8″ (3.5mm), Gold-Plated
Frequency Response: 10Hz to 20kHz
Input Sensitivity: 118dB @ 1mW
Impedance: 18 Ohms
If you want to get the most out of your universal-fit in-ears, go for Tailormade custom eartips. As opposed to regular silicone or foam eartips, Tailormade eartips are made to fit exactly your ears and the in-ear model of your choice. This means better sound (due to better isolation), better fit and better comfort. Even more, Tailormade eartips are very durable and hygienic and you can use them with many in-ear models.
But even compared to fully customized IEMs, they are the smarter choice. As opposed to those, you can still share your universal-fit-in-ears with others – and even sell them, should you ever want to upgrade. In a word, Tailomade eartips combine the pros of universal-fit in-ears with custom-fit in-ears (these remain the best choice for the stage).
At the headphone.shop, you get a great discount on Tailormade custom eartips when bundled with high-class in-ears. Find out more here.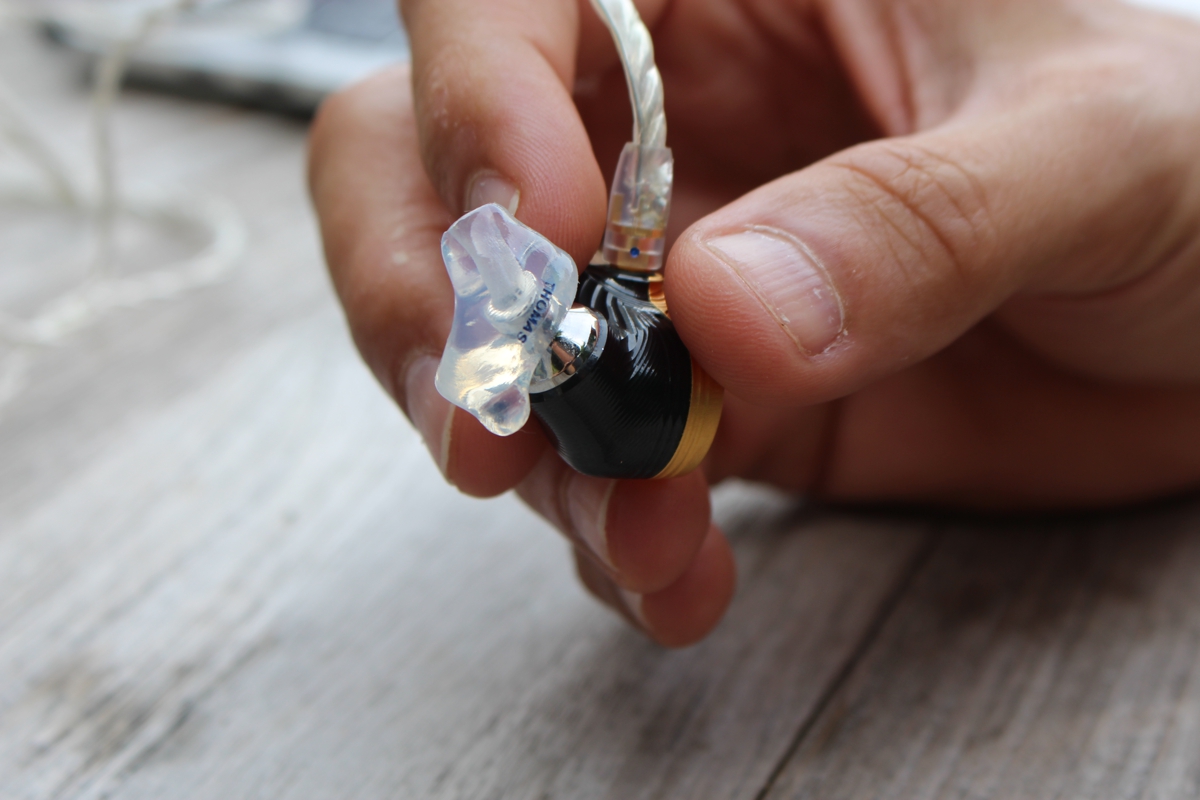 If you want to get the most out of your in-ears, you should consider better cables – and even more the option of having a balanced cable (especially when you have a high-end audio player from Astell & Kern etc.). At the headphone.shop, you get a great discount on selected upgrade cables when bundled with high-class in-ears. Find upgrade cables here.
Related products