JH Audio – Contour XO
Contour XO in-ear monitors combine the efforts of two pro audio industry award-winning innovators: JH Audio and L‑Acoustics. If you want the perfect reference IEM for the L‑Acoustics sonic signature on stage, at the mixing desk, in the studio, or on the move, Contour XO is the answer.
Delivery time: custom-made
Product Description
These newly designed, universal in-ear monitors bring you intimately inside the music thanks to 10 balanced armature drivers with a 3-way crossover in a quad low, dual mid, and quad high configuration. Furthermore, Contour XO puts you in control of the low end with bass adjustment of up to 15 dB above flat response.
Whether performing, mixing, or just listening, you will hear accurate, distortion-free reproduction with JH Audio Sound drive technology built to handle extreme dynamics to deliver the intense emotional impact of live music.
Further enhanced by Freqphase, Contour XO ensures precision timing across the frequency spectrum, fulfilling the sound source coherency requirements of L‑Acoustics Wave front Sculpture Technology (WST).
Aesthetic Design with Optimum Comfort
This is an extremely solid and well-built universal monitor with a form factor not that far away from the likes of the Roxanne Aion and, to some extent, the universal Angie.
The Contour XO is also a typically 'JH Audio' sized universal monitor, which means it is fairly large due to the variable-length Freq|Phase tubing that needs to fit neatly into the shell. However, it does remain relatively lightweight despite the girth, with only judicious use of metals in the new 7-pin connectors and acrylics pretty much everywhere else.
The aesthetic is all black with a subtle carbon-fiber weave inset on the faceplates, gold accents on the fenders and connector rings, and a polished black hollow body main shell. This is a clean-lined pro look and quite a contrast to the exotic designs I am used to seeing on the custom side of the JH Audio monitor line-up.
Front and center are the L-Acoustics logos, symbolizing the partnership between the two firms on the Contour XO tuning. L-Acoustics uses gold in their branding. Black is an excellent and popular color to flesh out any gold trimming.
The Contour XO 7-pin connector socket is quite bulbous but does have a superior tidy finish. The matching outer gold ring and sturdy gunmetal stem keep everything very clean.
Acoustic sound quality
The Acoustic Sound Chamber is a 3D-printed, recessed tubing system that is the first of its kind, keeping sweat at bay and alleviating the need for excessive cleaning.
This is a lively, clean, and technically very capable performer with plenty of treble reach, a clear and open midrange, and a solid and very well-defined low-end presence when called upon.
The Contour XO is decent for neutral sound. They have a smooth, warm sound profile. While they lack a thumpy low-bass, their mid-range is exceptionally neutral, ensuring that vocals and lead instruments are present, detailed, and clear.
Contour XO Final Thoughts
The Contour XO provides the most enjoyable, satisfying, and overall technically-adept listening experience. They're talented performers that stay comfortable over extended listening sessions. When you factor in excellent build and finish, they're right up there with the best at their price.Highly recommended.
Specifications
10 Custom-made Proprietary Balanced Armature Drivers per side
Powered by Soundrive Technology: Quad Low, Dual Mid, Quad High
Premium 7-Pin Litz Wire Connector with Built-in O-ring
High Purity OFC 4N Silver-plated Cable
Variable Bass Attenuator (0 to +15dB)
Triple Bore with Freqphase Stainless Steel Tube Waveguide
Input Connector: 1/8″ (3.5mm), Gold-Plated
Integrated 3-way Crossover
Frequency Response: 10 Hz to 20 kHz
Impedance: 8 Ω
Input Sensitivity: 116 dB @ 1mW
Noise Isolation: -26 dB
If you want to get the most out of your universal-fit in-ears, go for Tailormade custom eartips. As opposed to regular silicone or foam eartips, Tailormade eartips are made to fit exactly your ears and the in-ear model of your choice. This means better sound (due to better isolation), better fit and better comfort. Even more, Tailormade eartips are very durable and hygienic and you can use them with many in-ear models.
But even compared to fully customized IEMs, they are the smarter choice. As opposed to those, you can still share your universal-fit-in-ears with others – and even sell them, should you ever want to upgrade. In a word, Tailomade eartips combine the pros of universal-fit in-ears with custom-fit in-ears (these remain the best choice for the stage).
At the headphone.shop, you get a great discount on Tailormade custom eartips when bundled with high-class in-ears. Find out more here.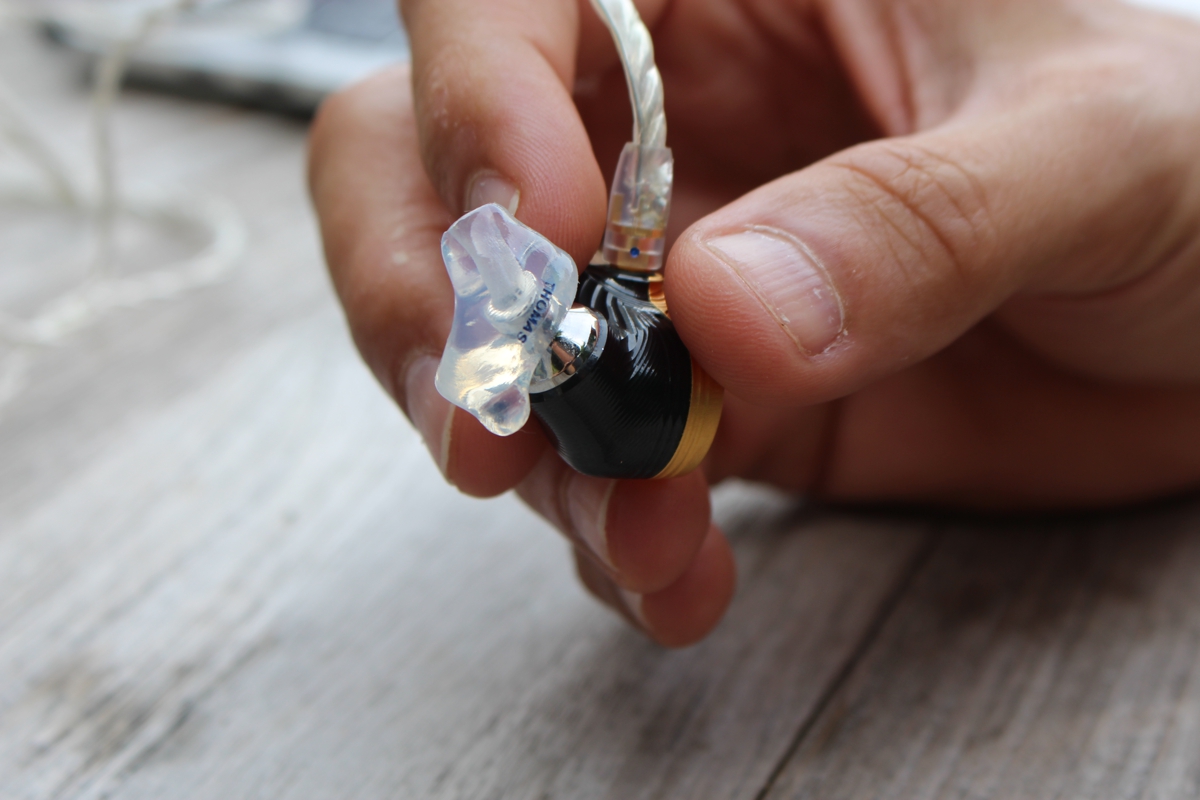 If you want to get the most out of your in-ears, you should consider better cables – and even more the option of having a balanced cable (especially when you have a high-end audio player from Astell & Kern etc.). At the headphone.shop, you get a great discount on selected upgrade cables when bundled with high-class in-ears. Find upgrade cables here.
Related products